---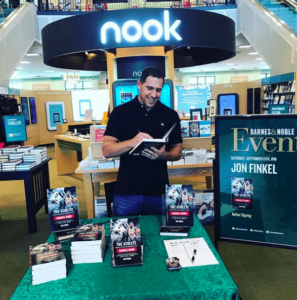 Jon Finkel has written for Men's Health, Men's Fitness, Muscle & Fitness, GQ, Details, The New York Times, AskMen.com, ComedyCentral.com, Bodybuilding.com and Yahoo! Sports' ThePostGame.com. He was the Editor-in-Chief and founder of the National Football Foundation & College Football Hall of Fame's website, FootballMatters.org, as well as the Publisher at Beckett Media, where he successfully revamped and oversaw all digital and print properties. He is currently the co-host of the Life of Dad Show, which has compiled 600k downloads in podcast form and 300k viewers on Facebook Live since 2017.
As an author, Jon wrote the award-winning basketball book series 'Greatest Stars of the NBA' for the National Basketball Association's "Read to Achieve" program. He penned all twelve books in the series, which included titles on Shaquille O'Neal, LeBron James, Kobe Bryant and many more.
His other titles include the top selling humor/advice book The Three Dollar Scholar – Awesome Advice for Acing Life's Major Decisions and Mindless Debates and The Dadvantage – Stay in Shape on No Sleep with No Time and No Equipment, which was featured on ExtraTV and endorsed by Men's Fitness and Muscle & Fitness. The Dadvantage debuted as a Top 5 fatherhood book on Amazon.com.
Jon also wrote Heart Over Height with 3x NBA Slam Dunk Champion Nate Robinson and Forces of Character with 3x Super Bowl Champion and Fighter Pilot, Chad Hennings.
His book, Jocks In Chief, ranks every single US president athletically and he appeared on CBS: This Morning promoting it, as well as received press in the New York Post and a wide range of other media.
Mean Joe Greene: Built By Football , a biography Jon co-wrote with Pittsburgh Steelers legend "Mean" Joe Greene was released in April of 2017 and was a top-selling football title on Amazon for many months.
He recently released The Athlete: Greatness, Grace and the Unprecedented Life of Charlie Ward, which is the official biography of Heisman Trophy winner, New York Knicks star and Florida State National Champion, Charlie Ward, The book was endorsed by Tony Dungy, Jeff Van Gundy, Warrick Dunn and Mark Richt.
His upcoming book, The Life of Dad Experience, is being published by Adams Media of Simon and Schuster and will be in stores everywhere Father's Day 2019.