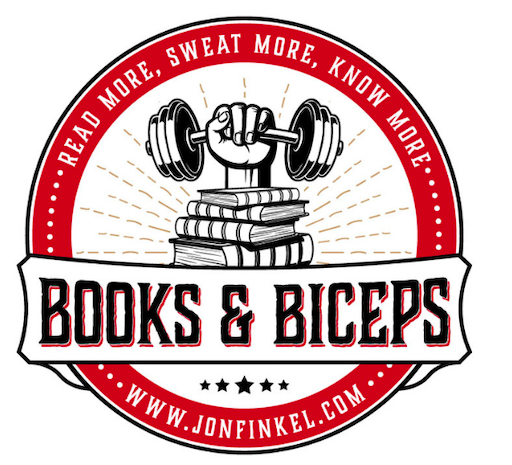 Over 3,000 people subscribe to my weekly e-mail newsletter
You get:
Books & Biceps Newsletter (weekly)
Longform topical blog posts (once or twice a month)
Discounts, free chapters and announcements about new books and projects (occasionally)
Free subscriber-exclusive resources and content
Join BOOKS & BICEPS for FREE today
---
WHY I WRITE IT:
I've always wanted to open the first ever gym/bookstore…
Until then, we've got the BOOKS & BICEPS newsletter…
The concept is simple: You get timely reading recommendations, exclusive author interview and fitness motivation/articles/videos, all delivered right to your inbox. Every Friday at 5AM. Directly from me (your favorite meathead/author) to you.
Who am I? My name is Jon Finkel and I'm the author of Hoops Heist, The Athlete, "Mean" Joe Greene, The Dadvantage, Heart Over Height, Jocks in Chief and more. I previously wrote for GQ, Men's Health, Men's Fitness, Comedy Central and Yahoo! Sports.
My books have been endorsed by everyone from Mark Cuban and Spike Lee to Chef Robert Irvine, Kevin Durant and Tony Dungy. I started this e-mail as a way to share all of the dope stuff I come across in my research for books/articles and in my daily life as a dad, writer, meathead, reader, eater and pop culture creature.
If you want to read more, sweat more & do more, this is your newsletter.
Actually, it's our newsletter. It's an awesome community of people who share books, articles, workouts, movies and more. Welcome aboard.*
*You'll also get updates on my new books, free giveaways, discounts, promotions and all kinds of cool stuff, including original BOOKS & BICEPS swag.
READ PAST BOOKS & BICEPS ISSUES (Formerly the FF5) RIGHT HERE:
ISSUE #79 – Vince Vaughn & Dr. J & David Epstein's Range
ISSUE #78 – Kevin Bacon & Evernote & Slam Balls & Barry Bonds
ISSUE #77 – Big Pun & Dennis Eckersley & Plant Protein
ISSUE #76 – Shaq & Nolte, Blue Chips, T-Shirts, David Mamet and Tony Hawk
ISSUE #75 – All-American Apollo Creed
ISSUE #74 – The Summer Reading List
ISSUE #73 – Heavyweight Champion Charles Barkley
ISSUE #72 – Stallone as The Terminator, a Golf Swing Koepka Would Envy, Favreau's Chef Show, Carlton on Kids and more…
ISSUE #71 – Deleted Titans Denzel Scenes, D-Day Stories, John Candy, Fat Gripz for Muscles, F. Scott Fitzgerald…
ISSUE #70 – Macho Man Randy Savage, an Unreal Matrix-level stuntman, a 97-year-old athletic phenom, a new George Plimpton & more…
ISSUE #69 –Keanu Reeves' Coolness, Laird Hamilton & Rogan, a Leg-Saving Massage Bar, a Pulitzer Prize poet and more…
ISSUE #68 – The Man Bigger than Game of Thrones' 'Mountain', David Robinson Highlights, Tolkien Quotes, Jackie Mac & more
ISSUE #67 –Harold Ramis Honored, Anthony Jeselnik's Masterpiece, Jeff Pearlman Revisits John Rocker, Wyatt Earp and more…
ISSUE #66 – FINKEL EXCLUSIVE: Ace Ventura's Sean Young on Ray Finkle, More Cowbell's Real Genius, a Candlepin Bowling novel & more…
ISSUE #65 – Ralph Macchio Waxes Karate Kid, One-Arm 225 Bench, Tiger's Flip Book, Arnold, Reading Encyclopedias & more
ISSUE #64 – Jeopardy's New Genius, Ted Williams, Back-Saving Spinal Hygiene, George RR Martin's kindness & more…
ISSUE #63 – Walter Payton's Last TD, Andrew Dice Clay's Lost Variety Ad, Swimmers vs. Runners, a PDF hack and more…
ISSUE #62 – Remembering Nomar, the 3-point shooting savant, Mel Gibson & Vince Vaughn, Thomas Edison and more…
ISSUE #61 –Vintage Garry Shandling, DMX steakhouse rap, Susan Orlean's masterpiece, PB&J Protein and more…
ISSUE #60 –MJ's Famous Fax, My #1 Protein Powder Flavor, Beating Lunch Stress, Harold Arceneaux and more…
ISSUE #59 – Live from Inside the Bomb Cyclone, Gerald Ford Big Pimpin', Ski Patrol 30 years later and…
ISSUE #58 –LL Cool J, an 830-Mile Air Force March, NBA Star Odds, old Herschel Walker footage and…
ISSUE #57 – One Q w/ Gronk, Genius Mushrooms, the 4-Minute Foot Massage and…
ISSUE #56 – One Q w/ a 4x NBA All-Star, Mark Twain, George Washington, Tony Gwynn and…
ISSUE #55 – Stephen King's Metallica secret, Oprah, Bruce Smith & StairMasters and…
ISSUE #54 – A James Brown Conspiracy, Jujimufu, a Frank Robinson quote and more…
ISSUE #53 – Jackie Robinson's Best Quote, Mocking the Peloton, Minnesota Fats & Friends…
ISSUE #52 – Air Jordans made out of cake, Eugen Sandow & Lion Wrestling
ISSUE #51 – The NBA's Caffeine Addiction, Avengers & a Fat Finger Keyboard Solution
ISSUE #50 – A David Letterman prank, a deep dive on The Sopranos' last scene, and more
ISSUE #49 – Mean Gene and Macho Man, the Hilarious Spice Adams, Bill Gates' Curious Thoughts
ISSUE #48 – New Spider-Man workout playlist, scientists study boogers, James Clear is Smart
ISSUE #47 – The 15 Most Memorable Books I Read in 2018
ISSUE #46 – The 2-Second Stiff Neck Fix, the Godmother of the Word Processor, Kareem
ISSUE #45 – Martian Twitter, Rules on Handshakes from Bush 41, a Great Robin Williams Doc, the Escape Artist is brilliant and much more…
ISSUE #44 – The Behemoth Bovine, a Perfect Book Light, LeBron's Rare Training Regimen and more…
ISSUE #43 – A Winston Churchill Adventure, Darts & Farts, Dr. Seuss, Creed 2, America's Best Burger and more…
ISSUE #42 – The Master of Saying "No", Pre-Rocky Stallone's Flophouse, the Origins of the Bulls Intro, a Grammar Hack and more…
ISSUE #41 – End robo calls, how to fall asleep in 2 minutes, live to 100, Alexander the Great and a priceless work story…
ISSUE #40 – Gremlins-themed School Lunches, The Sandman is Back, Inventing Healthy Cheetos, Stoners (not what you think) and more…
ISSUE #39 – The anti-Gamma Ray glasses you need, the Chessboard Killer, a yellow lab leaps into a 10-foot pile of leaves, a 100-year old newspaper and more…
ISSUE #38 – Octopus IQs, Mariano Rivera's childhood glove, Jack LaLanne Push-Ups and more…
ISSUE #37 – Rooibos Tea, Best American Sportswriting & the War Against American Cheese
ISSUE #36 – Live Brown Bears, Cold Brew, Colonel Gary Steele & Neal Brennan
ISSUE #35 – New Creed 2 Villain & OpenShot Software & The Green Brothers & the end of gyms
ISSUE #34 –Ticketmaster Mess & the OneBlade to Rule Them All & Lunchlady Land and more
ISSUE #33 – The Effective Executive, Where Your Old Phone Goes, Larry Bird Highlights & more
ISSUE #32 – History of Gold's Gym, Top Flight Beef Jerky, Little Girl Owns Box Jump and more
ISSUE #31 – The Athlete in Paperback, the 30th Anniversary of Naked Gun, New York BBQ and more
ISSUE #30 – Reviving the Woolly Mammoth, the Perfect Laptop Lap Desk, King Tea Purple Tea and Rodney Dangerfield
ISSUE #29 – The Sporkful on The Simpsons, Unwifeable, Esquire's Aretha Franklin Profile and more
ISSUE #28 – Jon Gruden's Amazing Right Hand Man, A Great Back Cushion, Doctor Peter Attia's Podcast and more
ISSUE #27 – Starting the New Life of Dad Book, Shea Serrano's The Office PDF, Iverson & his Kids and more
ISSUE #26 – Sapiens: the book, 7-11 Coffee, and a Jimmy Garoppolo Feature
ISSUE #25 – Seinfeld & Chappelle, the $12.4 Billion Mistake, Cranberry Beef Jerky, Robert Greene and the Thesaurus
ISSUE #24 –Springsteen Business Tips, Bullet Proof Cold Brew, Summer Burpee Challenge
ISSUE #23 –Smart Phone Protector, Longform on Wiffle Ball, Mr. T and Humility and more
ISSUE #22 – Laptop Grime, Stephen King, Insane Ocean Photos, the Mud Volcano and more
ISSUE #21 – Best-Named Summer Beer & a Speed Reading App & Christine Brennan on Swimming & Jim Brown's New Bio
ISSUE #20 – The 2018 Summer Reading List
ISSUE #19 – Bankrupt Twinkies & Meatheads Gone Wrong & New Summer Socks & In-N-Out Upgrade with Chick-Fil-A
ISSUE #18 –Speed Reading Video & Thunderbird Protein Bars, Top Gun 2 and more
ISSUE #17 – Sam Malone Today & New Matcha Green Tea & High Rep Deadlifts
ISSUE #16 – Michael Keaton's Graduation Speech & Blue Bottle Coffee & A Back Saving Lower Back Stretch & Gary Smith on Joba Chamberlain
ISSUE #15 – Robert Curson's Rocket Men & Rube Goldberg Machines & Grandpa's Old Fashioned Pine Tar Soap & Unlimited ATM Theft in Esquire
ISSUE #14 – Students Buy Teacher Jordans & Wired EIC on Publishing & Power Waffles
ISSUE #13 – Sly's Creed 2 Notes & Westworld's Real World Budget & Ice Cream Protein Before Bed
ISSUE #12 – The Sandlot, Teddy Roosevelt, New Protein Bars and More…
ISSUE #11 – Jim Stoppani's Pre-Workout & Andre the Giant's Documentary & SI For Sale. Again.
ISSUE #10 – Returning Paper Airplane & Daniel Pink's When & Giant Jenga & a 10-Minute Jump Rope Workout
ISSUE #9 – Death by Slam Ball Workout & Peanut Butter Bars & the Smart Phone Tripod & Rock the Bells Radio
ISSUE #8 – Laird Hamilton's New Documentary & the Fastest 200 Freestyle & Black Rifle Coffee & Quotes on Stairs
ISSUE #7 – My Cousin Vinnie 2 & Black Panther Comics & Gorilla Kettlebells & Harold Arceneaux
ISSUE #6 – A Writer's Revenge & Eliminating Tech Neck & the 5×5 Plus 1 Workout & an Otherworldly Cupcake Hack
ISSUE #5 – David Chang's Ugly Delicious & the Amazing David Goggins & Ryan Holiday's Conspiracy & Epic Chicken Sriracha Bars
ISSUE #4 – The Curling Superteam Builder & a Peter Rabbit Type & a New Book on The Wire & the Icarus Documentary
ISSUE #3 – Lincoln's Pocket Contents & World's Biggest Casino & the 10-Egg Omelette and the Navy SEAL Fitness Test
ISSUE #2 – The Matcha Quiz & a Roberto Clemente Biopic & A Kingdom From Dust & Good Will Hunting's Rewatchables Pod
ISSUE #1 – A Mr. Rogers Classic Profile & the Born Strong Documentary & Cinder Blocks & the Joy of Topo Chico