I co-wrote Chad Hennings' book, Forces of Character, and I've always been fascinated with the life path that he took. For those who don't know, this is 3x Super Bowl Champion and Fighter Pilot Chad Hennings' utterly unique rise to the NFL.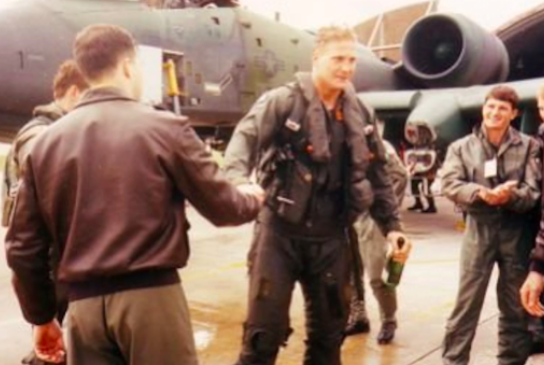 Imagine you're a 5-star high school football recruit. Everyone wants you. Michigan. Ohio State. Notre Dame.
But, instead of joining a Top 5 college football program, you join the Air Force Academy and become the best lineman in the country, winning the Outland Trophy.
Then, instead of going right to the NFL, you fly 45 successful A-10 combat missions. THEN win 3 Super Bowls…
It all happened. Here's how:
1/ "Again!"
15-year-old Chad Hennings' legs burned. He'd been running routes for his brother in the scorching sun for hours.
He was a sophomore tight end. His brother the stud QB.
"I ran routes until I puked," Chad said. "That's when I began to understand what work ethic was."
2/ "Puuuush!"
Chad's brother drove him hard in the weight room.
Bench. Squat. Deadlifts. All of it.
At first Chad resisted… But then…
"Something happened," he said. "I could feel strength coming on. I was faster. It was empowering. I owned it."
3/ By his senior year in HS, Hennings is a beast.
He wrestles and pins nearly everyone he faces.
He wins the heavyweight state championship. In Iowa. Big leagues.
He's an All-State Tight End. Major scholarship offers pour in.
But Chad wants to fly…
4/ Instead of accepting a full ride at a football school…
Hennings attends the Air Force Academy.
He wants to fulfill his sense of purpose. Of duty. And still play ball.
Sophomore year: the team is #5 in the nation.
Senior: Leads the nation in sacks. Wins the Outland Trophy
5/ Hennings graduates the Academy in June 1988.
The Dallas Cowboys draft him in April of 1989 not knowing if he'll play a down.
Chad puts the NFL dream aside. It's time to fly.
But he's 6'6″, 290 lbs.
He gets a size exemption to fly the A-10…
6/ Hennings is assigned to the 92nd Tactical Fighter Squadron.
He trains. He prepares. Doesn't touch a football for years.
He deploys to the Persian Gulf in 1991.
Flies 45 A-10 missions for Operation Provide Comfort.
7/ After the Gulf War, Hennings becomes a member of the Air Force Reserves as part of a military reduction.
The Cowboys are hesitant. But waiting.
He joins the team as a 26-year-old rookie
Jimmy Johnson had considered cutting him.
Then he saw a monster workout.
Chad stayed.
8/ Within 6 months Chad goes from flying missions over Iraq to banging helmets in practice with Emmitt Smith. Michael Irvin. Leon Lett. Charles Haley.
He starts off as a special teams guy. Keeps working. Keeps grinding.
Becomes part of a legendary defensive line rotation…
9/ Hennings wins 3 Super Bowls with the Cowboys in 4 years.
He becomes a starter after the 1995 season.
He retires in 2000.
He's elected to the College Football Hall of Fame in 2006.
Has one of the coolest bios of all time:
3x Super Bowl Champ. Fighter Pilot.
10/ I had the pleasure of working with Chad on his book: Forces of Character.
We interviewed Troy Aikman, Gregg Popovich, Jason Garrett and more.
I also wrote about the Cowboys mid-90s dominance and their '96 season in particular in my book, 1996: A Biography – Reliving the Legend Packed, Dynasty-Stacked, Most Iconic Year in Sports.
"From Griffey and Prime Time to Jordan and Jeter, 1996 serves as a Vegas-style buffet of sports legend. Years come, years go. But Jon Finkel's masterpiece proves that, on rare occasion, some 365-day spans are worth bronzing in gold." ―Jeff Pearlman, author of Three-Ring Circus: Shaq, Kobe, Phil, and the Crazy Years of the Lakers Dynasty
If you enjoyed this story, I am 100% confident you will love my Books & Biceps newsletter.