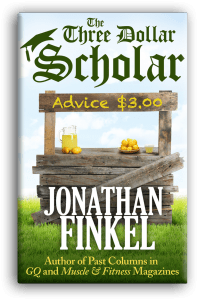 Publisher:

Jonathan Finkel
Buy on Amazon
When faced with making an important life decision, 100% of men and women polled would rather make a great choice than a terrible one; yet bad decisions happen to good people every day. It doesn't have to be this way.
In THE THREE DOLLAR SCHOLAR: Awesome Advice for Acing Life's Major Decisions and Mindless Debates, Jon Finkel applies the same humor and logic he made popular in his GQ and Muscle & Fitness magazine columns to essays about navigating life's milestone events and mainstream issues.
With its practical, think-it-through approach, THE THREE DOLLAR SCHOLAR is as much a guide about how to make wise decisions in general as it is a blueprint to making up your mind in particular on the subjects covered.
In Part I of the book, titled Major Decisions: Avoid Two-Year Mistakes, Four Year Disasters and Lifelong Nightmares, Finkel tackles the seminal moments in our lives. From naming your child to naming your dog, from choosing a college to choosing a warm state to live in, from planning a marriage proposal to planning for a job interview, Finkel uses comedy and common sense to examine what works, what doesn't work, and tells readers how to avoid the most painful (and pitiful) pitfalls.
Part II, titled Mindless Debates, covers a smorgasbord of pop culture and topical subjects, including how to deal with Global Globing (he'll explain that), to why McDonald's should give in and sell the Mac Daddy (he'll explain that, too), to why fit people have a hard time being funny (other than you, Joe Piscopo), to getting to the bottom of the "Cat People v. Dog People" debate. Along the way you'll learn how Chubby Checker got his name, how absurd the energy drink war is, and much, much more…
Nobody sets out to make an awful decision or lose a mindless debate, but it happens all the time. For less than the cost of a single magazine issue, readers can have THE THREE DOLLAR SCHOLAR at their side to make sure that it doesn't happen to them.