---

Hey! To paraphrase Jay-Z, you could have visited any website or blog in the world and you're visiting mine. I appreciate that. Here's a quick intro to Jon Finkel:
I'm a husband and father and dog dad and ocean swimmer and a guy with a sweet garage gym, AKA, The Flex Factory: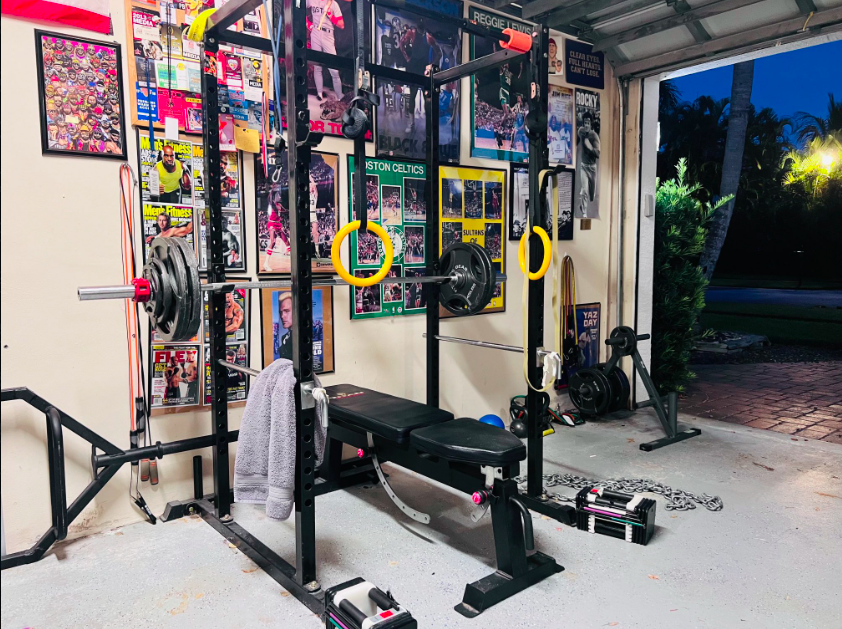 I grew up in Boston (mostly), but we moved around a lot when I was young, so I actually went to high school in New Jersey. I went to college at James Madison University, then promptly moved to Los Angeles, where I talked my way into a job as a production assistant on The Man Show with Jimmy Kimmel and Adam Carolla. While there, I began writing for Men's Fitness, ComedyCentral.com and many other places you can read about in my career bio, but I eventually found my way to Hermosa Beach, where I lived a block from the ocean for the last half of my twenties.
It was awesome. I began playing beach volleyball year-round (became average), surfing (became one notch above awful) and started participating in open water ocean swims, my first of which was the 2-Mile Pier-to-Pier Swim from Hermosa Beach to Manhattan Beach. It took an hour. It was exhausting. I've done it many more times since, as well as other ocean races. My best finish was a 2nd place (for my age group) at the Nike Miami Open Water Swim in Biscayne Bay, but it was a rainy day and I think most of the competition stayed home. I got my first medal since 8th grade, so I'll take it.
I currently live in South Florida. I read a ton of books and write about them with my Books & Biceps Newsletter read by thousands of dudes and dads, watch a good amount of movies, coach sports, play sports, and I take a lot of pride in my garage gym (AKA, the Flex Factory) because despite my love for playing hoops and swimming and football, I'm a meathead at heart.
If you want to know why I like basketball in particular and sports in general, read this piece about me, my brother and my dad: THE NIGHT THE LEGEND OF THE DRIVEWAY WAS BORN 
It explains everything and was a 'notable mention in 'The Best American Sports Writing' anthology in 2017, which is a career highlight.
I'm aware it's not an original quote, but when it comes to my career, my dad told me a long time ago that if you can find something that you love to do, and you can figure out a way to make a living at it, you'll be excited to go to work every day.
I love writing. I've written 10 books, which you can check out here. I've been lucky enough to make a living at it. I work as hard as I can to keep doing so.
If you'd like to read something right now, try this column I wrote on classic 90s SportsCenter that got 10.1M views.
Another great place to get on board with my work is with my Books & Biceps newsletter, which I mentioned earlier. You can subscribe below: