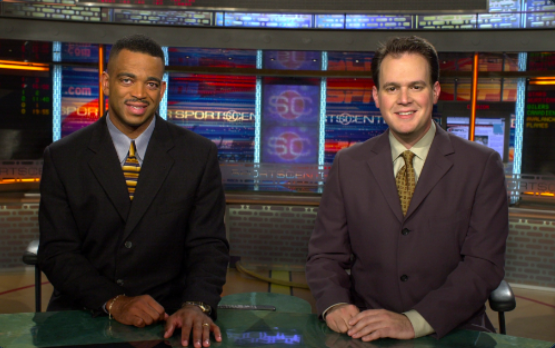 Dads and 90s kids, here's a fact: We had it so good with ESPN's SportsCenter and we didn't know it…. How could we?
We didn't know what was on the horizon that would try to take it down: first, league passes and TiVo and DirecTV… then the Internet and social media and YouTube…
During that brief, bright spot in sports media in the 1990s, ESPN's SportsCenter was the only way to get the day's highlights…
We had black and white photos and box scores and features in the newspaper…
We had brilliant writing and reporting and pictures in Sports Illustrated and Sporting News and ESPN: The Magazine…
But for the day's highlights…
To watch Ken Griffey Jr. make a diving catch or Jordan hit a game winner or Barry Sanders twirl through a defensive line…
If you didn't catch it live, the only way to see it was on SportsCenter (maybe your local news sports show – maybe)…
And into this void stepped Dan Patrick and Keith Olbermann and Stuart Scott and Rich Eisen and Craig Kilborn and Linda Cohn and Robin Roberts and crew…
And all the catch phrases every kid in high school and college would repeat: "cool as the other side of the pillow"… Jumanji… En Fuego….
We'd watch ESPN's SportsCenter at night then again in the morning.
It was a monolith. You'd show up at school and you'd have the same frame of reference for the highlights you saw. It was a shared experience.
It was awesome. And even though the show still exists and works, it's not a cultural touchstone anymore… it can't be… not with every highlight available from 1,000 sources across social media instantly…
And there are bright spots to be sure… My man and Top 10 Randy (Randy Scott) is terrific. So are plenty of others.
But classic ESPN SportsCenter, man. It was a shared experience. By everyone.
These kids don't know… Sitting there, retweeting highlights, sharing reels, scrolling their feeds… Doing the work to find what they like with no commentary or context.
Times change. I get it. And we always glorify what we grew up on. Maybe that's all this is.
Still, I miss Stuart Scott. He ruled.
Boo-Yah!
NOTE: This column has received 10M views across social media since I posted it (that's 10,000,000).
If you're nodding your head with nostalgia, and you miss the classic, old school ESPN SportsCenter, you'll love my Books & Biceps newsletter.
I share columns like this, author Q&As from books you love, updates on my Macho Man biography & more. Join free now.
And in fact, I wrote an entire book on my favorite 90s year: 1996: A Biography – Reliving the Legend-Packed, Dynasty-Stacked, Most Iconic Sports Year Ever.
And I also wrote the biography of one of the most impressive athletes of the 1990s along with Bo Jackson and Deion Sanders… I'm talking about Heisman Trophy winner, National Champion and New York Knicks point guard, Charlie Ward.
The book is called The Athlete: Greatness, Grace and the Unprecedented Life of Charlie Ward. The book was endorsed by Tony Dungy, Jeff Van Gundy, Warrick Dunn and more.