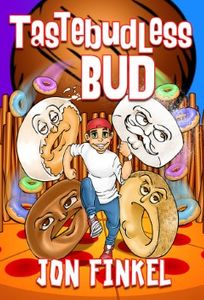 Buy on Amazon
WATCH THE OFFICIAL TASTEBUDLESS BUD TRAILER!!!

"TASTEBUDLESS BUD IS LIKE TOY STORY BUT WITH FOOD INSTEAD OF TOYS!"
"BUD IS FUN AND FUNNY AND SWEET – IN EVERY SENSE OF THE WORD. YOUR KIDS WILL LOVE IT…AND YOU WILL TOO!"
"THIS BOOK IS DESTINED TO BECOME A PIXAR MOVIE OR HIT KIDS' TV SERIES… THE WORLD OF DOUGHNESIA IS SO MUCH FUN MY KIDS DIDN'T WANT TO LEAVE!!!"
ABOUT THE BOOK:
Tastebudless Bud is a fantastical story about an adventurous boy named Bud whose family owns a donut shop and lives above it.
One night, a mysterious rolling pin crashes through the ceiling and slams through a wall behind the shop's oven, opening a portal to another land in the Milky Way Galaxy called Doughnesia, where all the food made of dough is alive! Suddenly, Bud finds himself smack dab in the middle of the biggest food fight in the universe, where Bagels and Donuts are locked into a win-at-all-costs Batter Battle against giant, evil Pizzas.
In order to get home and to save his family's shop, Bud forms an alliance with the Bagels and Donuts that takes him on an eye-opening, mouth-watering, Alice in Wonderland-type journey with characters like the head of the powdered doughnuts, William Powdered Taft, the frosted doughnuts commander, President George Frostington, the sesame bagels leader, General Ulysesames S. Grant, and many more! It's every kids' favorite bakery come to life!
BOOK YOUR TICKET TO DOUGHNESIA NOW!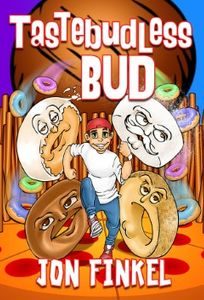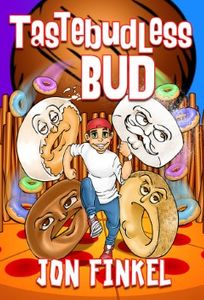 CLICK COVER TO ORDER