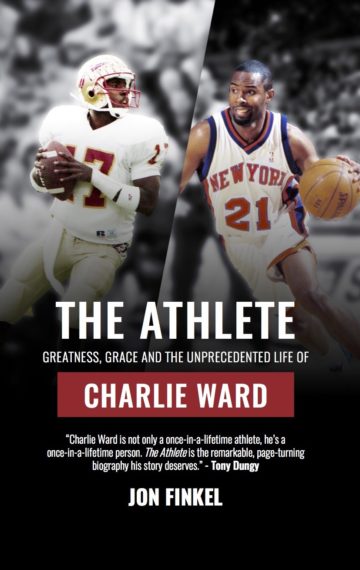 Buy on Amazon
It takes a once-in-a-generation athlete to win a national championship as a quarterback for Florida State, reach the Elite Eight as a point guard for his school, and then go on to become a starting guard for the New York Knicks in an NBA Finals. Yes, Charlie Ward's athletic accomplishments truly know no peer. Combine an eleven-year NBA career with a College Football Hall of Fame career and the portrait of a humble, magnanimous leader takes shape.
The Athlete is the first definitive biography of Charlie Ward. Culled from hundreds of articles, clippings, books and original interviews with those who know Charlie best, this story begins with a foundation of college athletic excellence laid down by his father. From there, Jon Finkel traces Ward's background from small-town Thomasville, Georgia to football-crazed Tallahassee to basketball Mecca Madison Square Garden in New York City. Ward's remarkable journey includes staggering setbacks—from a near career-ending leg injury in high school, to academic obstacles prior to attending Florida State, to not being drafted by an NFL team after winning the Heisman Trophy. Through it all, Charlie's calm demeanor, high character and unshakeable faith buoyed his belief that be it basketball or football, grades or career, he was going to succeed and set a strong example along the way.
As electrifying as Charlie Ward's highlight reel, The Athlete is a towering sports biography, epic in scope and triumphant in its portrayal of one of the greatest modern athletes the world has ever seen.
Praise for The Athlete
"Charlie Ward is not only a once-in-a-lifetime athlete, he's a once-in-a-lifetime person. The Athlete is the remarkable, page-turning biography his story deserves." – Tony Dungy, Super Bowl Champion Head Coach
"I can't imagine if you're a high school parent and your son is being coached by a man with the combination of athletic success, personal character and competitive spirit that Charlie has. I still don't think people properly grasp what this guy has done. And now to pass all that knowledge and experience on to high school kids? It's perfect."
– Jeff Van Gundy, ex-NBA Coach, NBA Analyst
"His leadership transcended offense, defense and special teams. It transcended the basketball court. The way he goes about his life with such integrity. The way he's remained grounded after all he's accomplished. I've learned as much from him as he ever did from me."- Mark Richt, Former University of Miami & Georgia Head Coach
"I lived with Charlie during the height of his college football popularity and I have so much respect for how he carried himself. He was the biggest star in college and he was so humble. His teammates respected him. His leadership was so unique. He had such a quiet strength and he treated people so well. You can achieve all of your dreams and goals and treat people with the utmost respect!" – Warrick Dunn, National Champion, 3x NFL Pro Bowler
"I became a believer in Charlie Ward the person before I became a believer in Charlie Ward the football player. We were neighbors for two years at Florida State. As a quarterback, he changed the college game as we know it with his speed and passing. As a man, he's almost beyond reproach." – William Floyd, National Champion, Super Bowl Champion