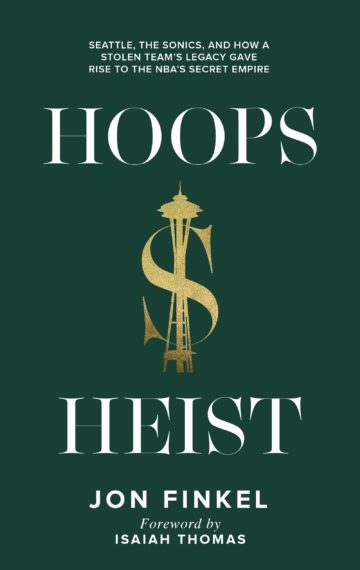 Order Now
Publisher:

Slow Grind Media

Available in:

Hardback, Paperback, E-Book
Order on Amazon
Order on Bookshop
This is the untold story of the city of Seattle, their beloved Sonics, and how the legacy of their stolen team created a transcendent hoops culture and a pipeline of NBA All-Stars, champions and icons with roots in the Emerald City and the Pacific Northwest.
Few cities in the history of modern sports had a visceral connection to a professional sports team like the citizens of Seattle and their Sonics. Beginning with their first season in 1967 through their last in 2008, the city's love affair with their team and players was unlike any other. From Lenny Wilkens, Spencer Haywood, Slick Watts, "Downtown" Freddie Brown and Jack Sikma, through Gary Payton and Shawn Kemp and the electric 90s era, all the way up to Ray Allen's run and Kevin Durant's single season, Hoops Heist explores the incredible impact of the Sonics locally and the importance of the franchise nationally. Featuring exhaustive research and exclusive interviews with Seattle legends, NBA Hall of Famers and the players who came of age in the Sonics' shadow, including Isaiah Thomas, Brandon Roy, Doug Christie, Jason Terry, Nate Robinson, Jamal Crawford and more, Hoops Heist captures the transcendence of the Pacific Northwest's basketball scene and its ongoing influence in today's NBA.
"The basketball brotherhood in Seattle is just different. There's such a deep connection with each other and their city. I really enjoyed that feeling and I was happy to be apart of it. This story of the culture of basketball in Seattle is so pure."
– Kevin Durant, 10x NBA All-Star, 2x NBA Champion
"The fans are so loyal and so dedicated in Seattle. They give you a feeling of warmth and family. So many guys made it to the NBA from the area because of that feeling of family. Hoops Heist is the story of generations of NBA guys lifting each other and their community up".
– Gary Payton, Pro Basketball Hall of Famer, NBA Champion
"The Sonics have always had a special relationship with their city and fans. The team shaped the community and the community shaped the team. Hoops Heist captures both sides to show the incredible influence the franchise had on Seattle and the whole NBA."
– Jason Terry, NBA Sixth Man of the Year, NBA Champion
"I know for a fact I would not have made it to the NBA without the presence of the Sonics being here in Seattle. The fact that I was able to go to games and get a chance to workout with some of the players – it made my dream of making it to the NBA more believable for me. In turn, with their help, the vibration of what they accomplished is still being felt for generations in our basketball community. I am glad that so many will get a chance to learn more about our community in this book."
– Jamal Crawford, 3x NBA Sixth Man of the Year