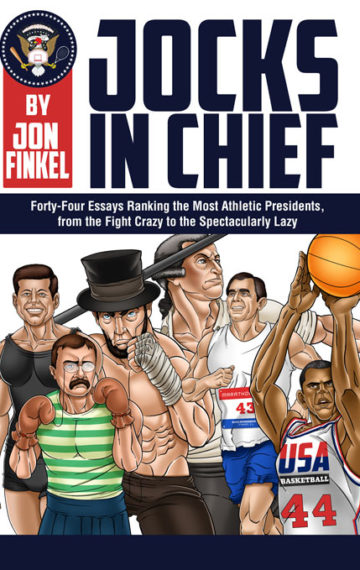 Buy on Amazon
The Official 'Jocks in Chief' Book Trailer
For the first time in US History, every single president's athletic ability has been researched, reviewed and ranked by acclaimed author Jon Finkel (GQ, Men's Fitness, Life of Dad, The Athlete).
Which president saved 77 lives as a lifeguard? Which one's lucky handball is still sitting in the Smithsonian over a century after he last played with it? Which president invented a sport? Or practiced jiu-jitsu three afternoons a week while in office? Or was an NCAA champion? The answers to these questions (in order: Reagan, Lincoln, Hoover, T. Roosevelt, Ford) don't even scratch the surface of the awesome athletic information covered in Jocks in Chief.
By combining his fitness and sportswriting backgrounds, Finkel takes a thorough, and often hilarious, look at the athletic resumes of every single Commander-in-Chief. From the good (George H.W. Bush played in the College World Series) to the bad (Donald Trump doesn't believe in exercise) to the ugly (Calvin Coolidge regularly rode an electric horse in the White House).
In order to objectively rank each president's athletic ability, Finkel invented the White House Athlete Ranking (WH.A.R.), which gives a score of 1 – 10 across five categories, with each president receiving a total score from 0 to 50. The higher the score, the higher the president ranks athletically compared to his fellow POTUS's.
The WH.A.R. Categories Are:
Executive Power – Ranks a president's overall physical strength.
Running Ability – Ranks a president's physical fitness and cardio throughout their life (both before and after office).
Fit for Office – Ranks how fit a president stayed once in office.
Executive Experience – Ranks the athletic accomplishments of a president.
Mettle of Honor – Ranks a president's athletic toughness and endurance.
"Presidents aren't just the commander in chief – they're also athlete in chief… The Oval Office has a long history of being occupied by athletes. These sweaty pursuits are detailed in Jocks in Chief." – The New York Post
"It's not a prerequisite that the president be athletic, but a number of our leaders have shown they're not out of place on the football field, baseball diamond or basketball court. A new book titled "Jocks in Chief" ranks the presidents on their athletic prowess. Author Jon Finkel shows us who topped the list – and who likely would have gotten picked last at a White House pick-up basketball game. – CBS This Morning