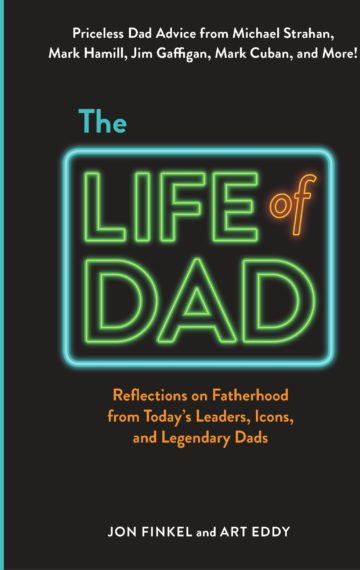 Publisher:

Jon Finkel & Art Eddy
Buy on Amazon
A heartwarming and enlightening collection of advice, wisdom, and practical skills featuring an all-star cast of fathers from the popular online community Life of Dad.
Becoming a dad gives men a VIP pass into the greatest club on earth: fatherhood. Its rewards are unmatched, its challenges, uncharted. The experience can reach euphoric highs and gut-punching lows. For those moments (and everything in between), The Life of Dad has your back.
The Life of Dad is an all-encompassing, entertaining distillation of the full dad experience, through a collection of interviews, podcasts, online chats, Facebook Lives, and more, dispensing collective wisdom from dads who have been in the trenches.
From Shaquille O'Neal explaining how he's taught his kids to be grateful, or Michael Strahan highlighting the importance of accountability, or Jim Gaffigan discussing the challenges of having a house full of kids, The Life of Dad has it all. Including thoughts from Ice Cube, Henry Winkler, Chris Jericho, Denis Leary, Freddie Prinze Jr, Charles Tillman, Mark Feuerstein, and many, many more, you'll find plenty of camaraderie in the hardest—but most rewarding—job of your life!
"When I found out I was going to be a dad I thought, 'Can I handle it? Would I hopefully be like my dad? What would my kids be like?' Then I felt pride and love. It was terrifying and amazing. Just like it is for every new dad. Reading The Life of Dad will help you relax and know that it's worked out for all these amazing dads, and it'll work out for you."
—Mark Cuban, entrepreneur, Dallas Mavericks owner, Shark Tank star
"Becoming a dad doesn't come with an instruction book. Or at least it never did before now. Jon Finkel and Art Eddy have packed these 256 pages with wit and wisdom from world-class superdads and distilled their real-world experience into actionable, easily digestible advice. Whenever new dads ask what to expect, the hardest part is figuring out where even to begin. Now I can point them toward a copy of The Life of Dad."
—Robert Irvine, celebrity chef, philanthropist, father of two
"I was happy to chat with the crew here at Life of Dad a while back and share all sides of fatherhood with them. There is a saying that it takes a village to raise a child. With this book you can use the wisdom from all of these dads to help you raise your children. If you put in the time and love your children, it will come back tenfold. Fatherhood is a rewarding journey that I can say I am proud to be on. Make sure you keep on living that Life of Dad!"
—Jim Kelly, Pro Football Hall of Fame quarterback
"Dads don't stop for directions, read assembly instructions, or consult the owner's manual. But everything a dad needs to know is in here. The Life of Dad contains the collected wisdom, knowledge, and love of countless fathers. If you are a dad, have a dad, or ever hope to be a dad, read this book."
—Steve Rushin, bestselling author, National Sportswriter of the Year winner
"During my career I was fortunate to be surrounded by so many people I considered to be high-character, high-integrity people, like Steelers head coach Chuck Noll. The Life of Dad is filled cover-to-cover with the same types of men offering excellent thoughts and stories about fatherhood. It's a great playbook for dads."
—"Mean" Joe Greene, NFL and College Football Hall of Famer, four-time Super Bowl champion
"When my kids were younger, we would sit down for dinner and I would ask them, 'Tell me one thing you did for your brain and one thing you did for your body today?' I wanted to be aware of how they took care of themselves mentally and physically, and to never take it for granted. I felt that if they had to articulate it, that would make them more aware, more present. I think brain-and-body balance is key. One thing you can do for your brain as a father is to read The Life of Dad, absorb the knowledge of all the great dads inside, and work on being better every day. And then you can do some push-ups, crunches, and squats."
—Gunnar Peterson, Los Angeles Lakers director of strength and endurance, top Beverly Hills trainer, entrepreneur
"There has been nothing else in my life that has given me the utter satisfaction and joy that raising my daughters with my amazing wife has given me. It's a lot of fun to learn from others how they have managed to deal with raising kids in somewhat unique situations that were caused by the career paths and success of the fathers. And it's even more fun to see that no matter who you are, you can have a lot of the same joys, hurdles, frustrations, and failures that every dad goes through. The Life of Dad should be a must-read for any dad who's been through it all or is about to get started on this wonderful journey that is fatherhood."
—James Blake, former professional tennis player, New York Times bestselling author, proud husband and father, founder of The James Blake Foundation
"My two passions in this world are being a dad and basketball. Just like having a coach helps you get better on the court, reading The Life of Dad will help you learn new things about being a better father. I know I did."
—Nate Robinson, BIG3 star, three-time NBA Slam Dunk champion
"Really fun reading."
—Go Fatherhood
"The first benefit of this book was to get me out of my own head and into the minds of other dads, and that has been tremendously helpful! I worry all day long! I need to get out of the negative head space, and into an arena where I can hear solutions, suggestions, and funny stories so that I do not get caught up in the personal day to day struggles without realizing that the light at the end of the tunnel is not an on-coming train!"
—Gay NYC Dad
"A beautiful love letter and instruction manual for dads of all ages and stages."
—The Single Dad's Guide to Life
"Transcends other 'dad' books by having so many dads to talk about."
—Daddy Mojo
"[An] enlightening collection of stories any dad will welcome."
—Coffee Chaos and Giggles
"A gift of value."
—Anniston Star
"A good one-two punch of quote and take-away."
—Traveling Dad