This Books & Biceps interview with Dumb Money author Ben Mezrich appeared in issue #266 of my Books & Biceps newsletter: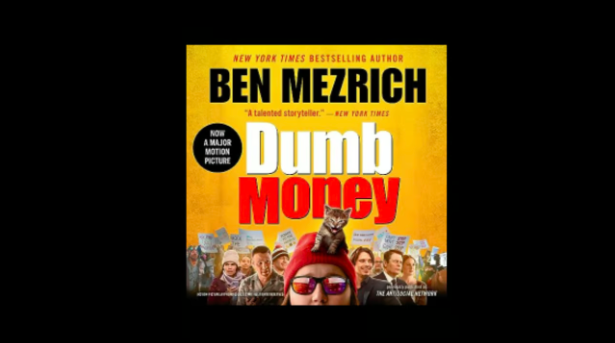 I suppose it's somewhat meta to reach out to the author of the book that inspired The Social Network about his recent book, The Antisocial Network on AN ACTUAL SOCIAL NETWORK, which inspired the new movie Dumb Money, about how a dude on another social network took on Wall Street (deep breath)… BUT when used as a force for good, social media can help us get in touch with people whose work we admire in record time and with near zero friction.
It was through this miracle of modern connectivity that I got in touch with one of my favorite authors, Ben Mezrich. Within hours, he agreed to a short interview and we were on our way to a Books & Biceps exclusive about how he wrote Dumb Money, which is in theaters right now.
Big thanks to Ben for doing this and I hope you enjoy this awesome book-behind-the-movie Q&A.
Finkel: Because I've read a ton of your books, from Bringing Down the House to The Accidental Billionaires to Bitcoin Billionaires, whenever a wild story involving money or technology breaks through and trends on social media or makes its way to national news, I think to myself, I wonder if this is book-worthy for Ben Mezrich?
What are some of the hooks a story has to have for you to decide, "yes, this is my next book"?
Mezrich: For me to dive into a story, there usually needs to be something big, explosive, and revolutionary about it. Vegas, Facebook, GameStop, woolly mammoths, UFOs – there has to be some hook you could imagine millions of people all over the world getting excited about.
There also has to be some sort of "smart young people taking on the system" element; I love David vs Goliath stories. Usually also, I have to be able to tell the story in a single sentence: "six MIT kids who took Vegas for millions" or "the GameStop short squeeze and the amateur traders who took down Wall Street" both fit the bill!
When you zero in on a story like your new book, how much research into things like GameStop, WallStreetBets and stuff like Short Squeezes do you have to do before you know it's going to be compelling enough for a book? Do you ever start the research on a project and bail because after looking under the hood it's not that great/interesting/entertaining?
Yes, I have to do tons of research and legwork. I'm not really an expert in anything until I write about it – so I spend a lot of time on the phone with the main characters learning everything I can.
I've developed really good spidey-sense at this point so I know from the first few minutes of talking to someone about a story whether it's something worth writing. So I don't usually go far and then have to stop. If I'm in, I'm in.
One of the hallmarks of your writing is taking a true story with real people involved and writing it as if it was a fast-paced fiction thriller…. Do you have an idea about the main characters that you want to follow beforehand? Or do you conduct your research and interviews and at some point say, "alright, this is my number one guy, he's my main character?"
A little of both. I usually know who the main characters are before I start writing a book. Sometimes when I'm researching I do meet someone or see something and realize there's a cool subplot or segue that I want to go into.
But usually my stories are driven by the characters who live them – they drive the narrative and shape the plot – so my job is really to make them come alive as best I can!
If you enjoyed this interview, sign up for my FREE weekly Books & Biceps newsletter. It's simple and awesome. Each week you get: 1 book recommendation and author interview PLUS one workout. Flex your brain. Flex your body. It's like if your gym had a bookstore in it. And it's free!
Subscribe here:
Did you know I wrote the only book that ranks every single president athletically? Zero politics. Just sports. Check out Jocks in Chief: The Ultimate Countdown Ranking the Most Athletic Presidents, from the Fight Crazy to the Spectacularly Lazy.
And you might enjoy these other author interviews:
'Endure' Author Alex Hutchinson
'Our Team' Author Luke Eppelin
'Elgin Baylor' Author Bijan C. Bayne