THE BACKGROUND
This fiasco happened in 2014 when I was moving to Dallas from South Florida (update: we moved back to South Florida in the summer of 2020). I took a road trip with my dog to meet the movers at the (then) new house and get things set up before my wife flew out with the kids.
(I should mention here that my four-legged best buddy on this trip, my glorious pal Mr. P, AKA, Pierce, passed away last year. This was one of my favorite memories with him.) Moving along…
THE ORIGINAL PLAN
Leave Monday morning the week of the Super Bowl, get in Dallas late Wednesday night, meet the movers at our new house in Dallas on Thursday, oversee the move, have DirecTV come in on Saturday and, boom, I'm watching the Super Bowl in my new house before the wife and kids come out on Monday. Perfect. Plus, I get an awesome road trip with just me and the dog, something I've always wanted to do. What could go wrong?
WHAT ACTUALLY HAPPENED
I left after breakfast Monday morning from Broward County on time with a bagel in my mouth and BBQ on my mind. The dog had a sweet set-up in the back of my old Durango. Just his bed, my basketball shoes and a water bowl. Canine utopia.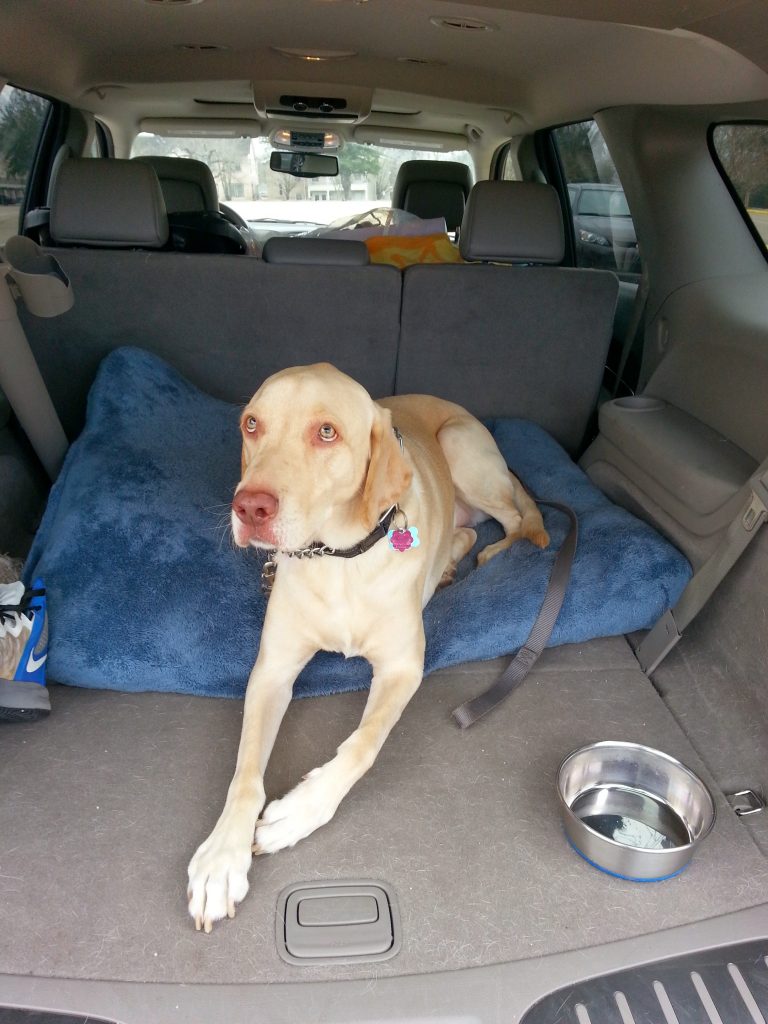 The trip to Tallahassee from where we lived was about 6 1/2 hours. One of the things I wanted to do on the way was roll through a bunch of college campuses for my meals, so I made a slight detour to the University of Florida in Gainesville for a late lunch. Still on time. Then…
The weather got bad. Quickly. By 4pm or so the temperature was dropping and it was sleeting a little and the roads started to get icy. By the time it was dusk, we were going about 15 mph on the highway.
Oh, here's a quick thing to keep in mind. La Quinta is just about the only national hotel chain that allows dogs, so I had my reservations booked at a series of La Quinta's across the country. If I got stuck somewhere with hotels that didn't allow dogs I was sleeping in my car.
Which meant when they decided to close the highway about six exits shy of my La Quinta, I had to drive the wonderful back roads of Tallahassee, at night, on ice, until I got to the FSU campus, where my La Quinta was. It was freezing when we got there, but we'd been in the car all day so I took the dog for a walk through the campus. He was infatuated with the Seminole statues.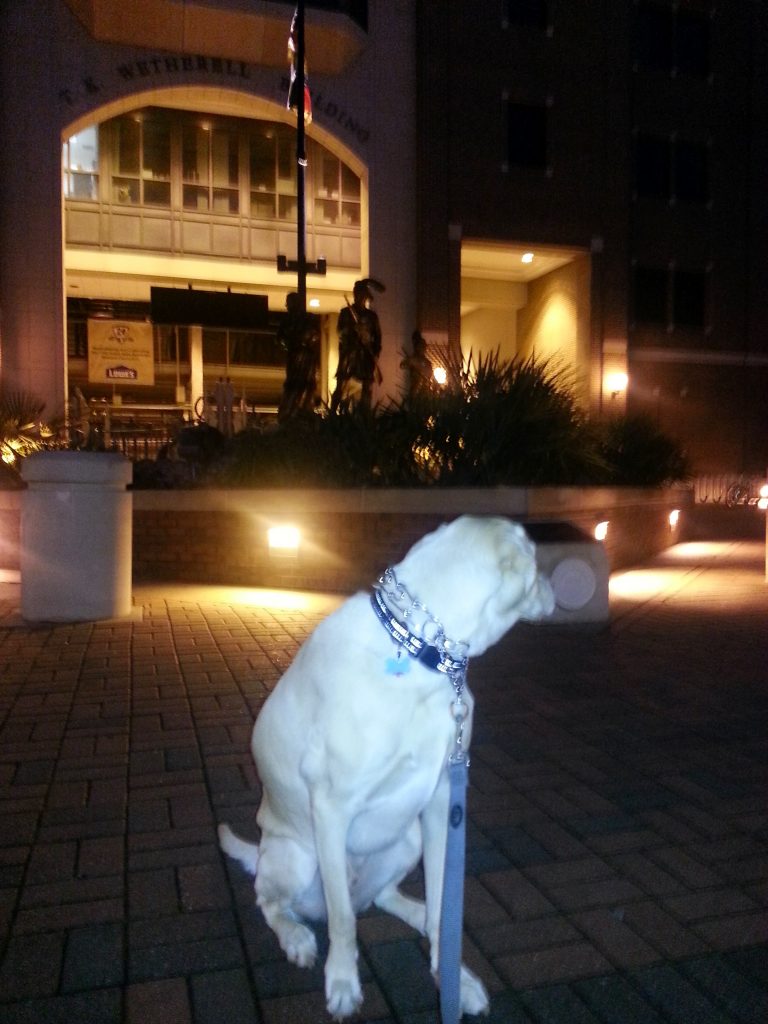 The statue was cool, but I was infatuated with Sonny's BBQ. He ate a pulled pork sandwich. I did too. I even let him lick the BBQ sauce off the platter while I licked my fingers. We were two happy dudes… And the big guy LOVED having his own bed. Even used the pillow and everything.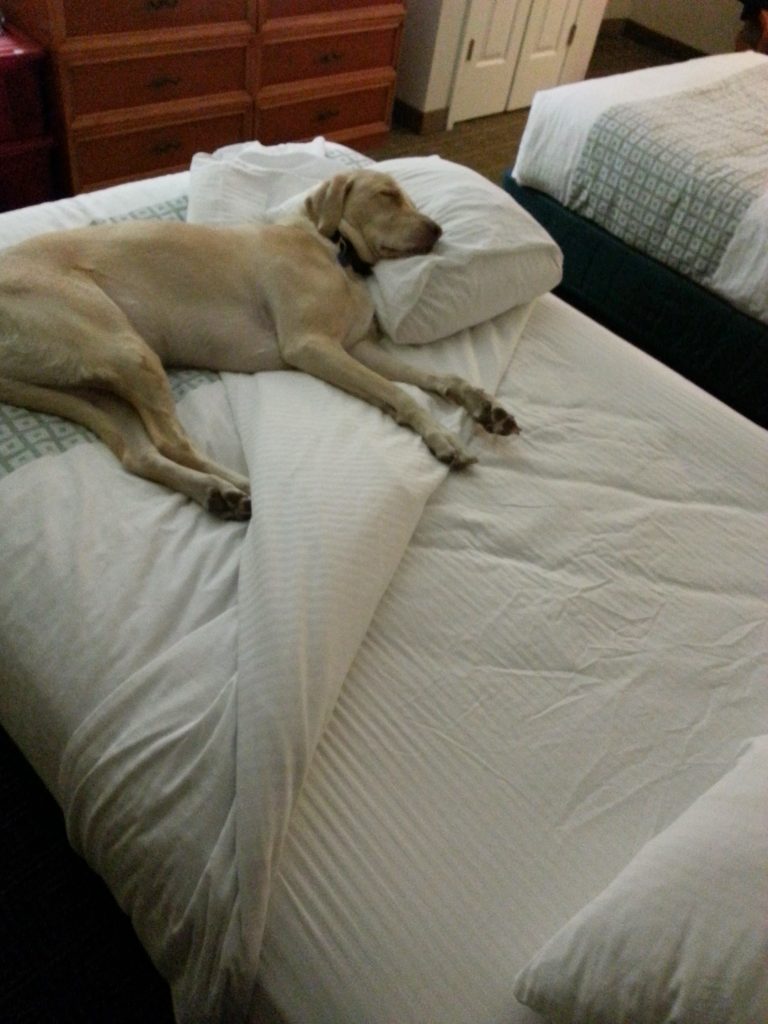 We woke up to find that for the first time in about seventy years I-10 was closed. The dog was so bummed out he planted his butt on a patch of ice.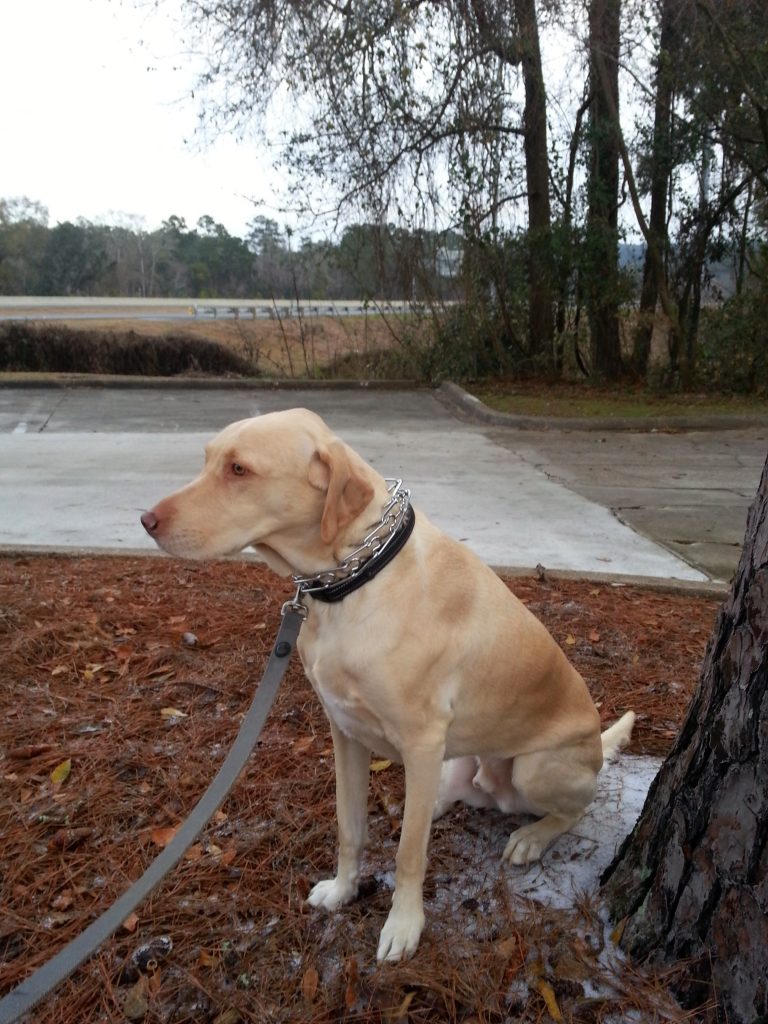 This is what a closed major US highway looks like with zero cars on it at 10am.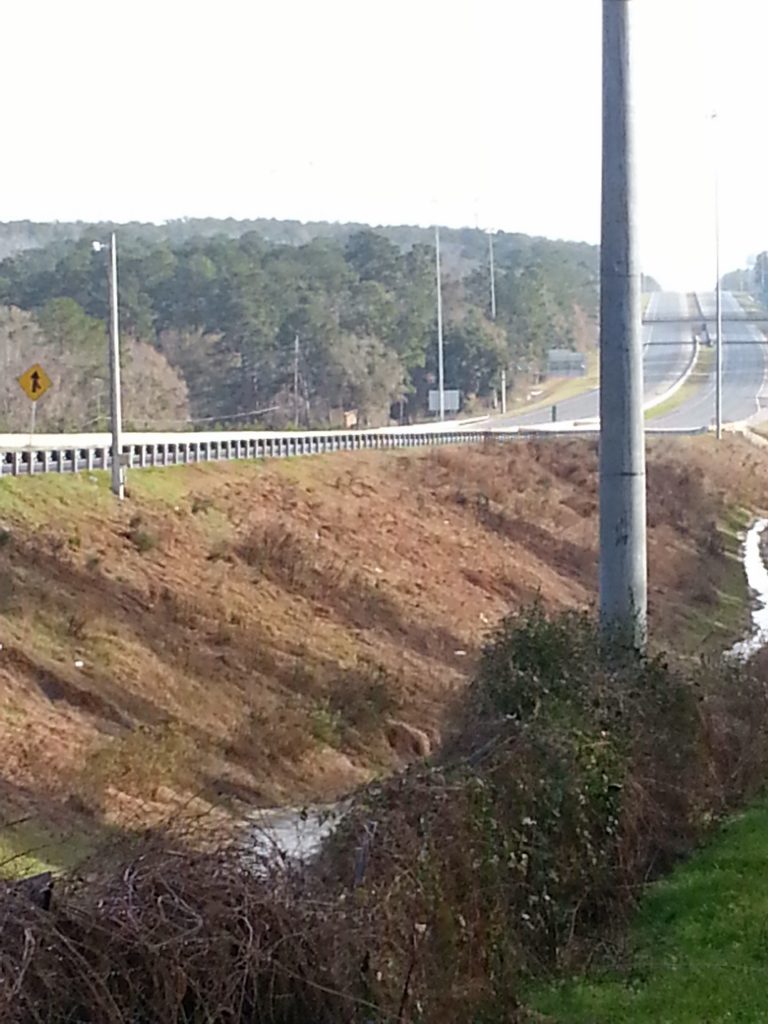 So the dog and I hung out at the Tallahassee La Quinta for the day, which is so much fun I've done it on vacation voluntarily many times since. I refuse to go anywhere else.
The road finally opened around 4pm. We packed up and decided to make a go of it. We were optimistic. We blasted Born to Run and DMX. We barely crawled. Traffic was miserable and I ended up stopping in Pensacola at about 9:30pm, after it took five hours to do a 2 1/2 hour drive. We ate McDonald's for both lunch and dinner. It was wonderful. He had twelve nuggets and sweet and sour sauce. Plus his normal dog food. After that he was pooped and immediately crashed on his own bed. Not even letting me pick which one I wanted. Jerk.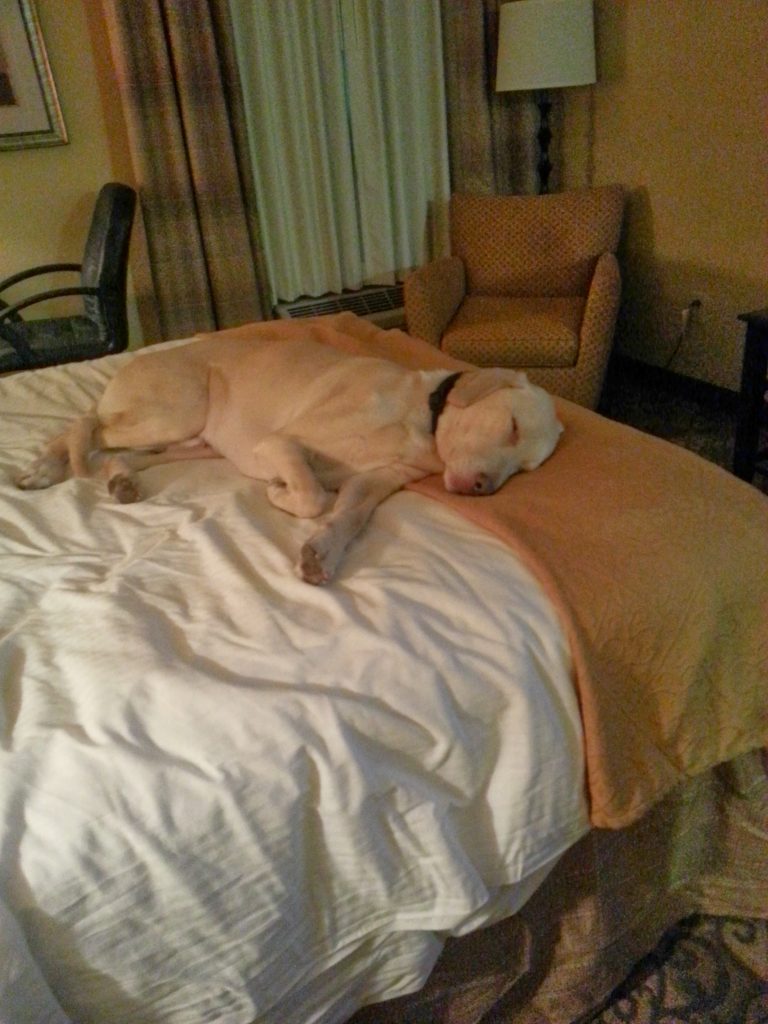 When we woke up it was about 22 degrees out. One of the coldest days ever in Pensacola. Didn't stop us from taking a walk on the beach, though the dog wasn't happy about it. At all.  In fact, he was pissed at me. Look: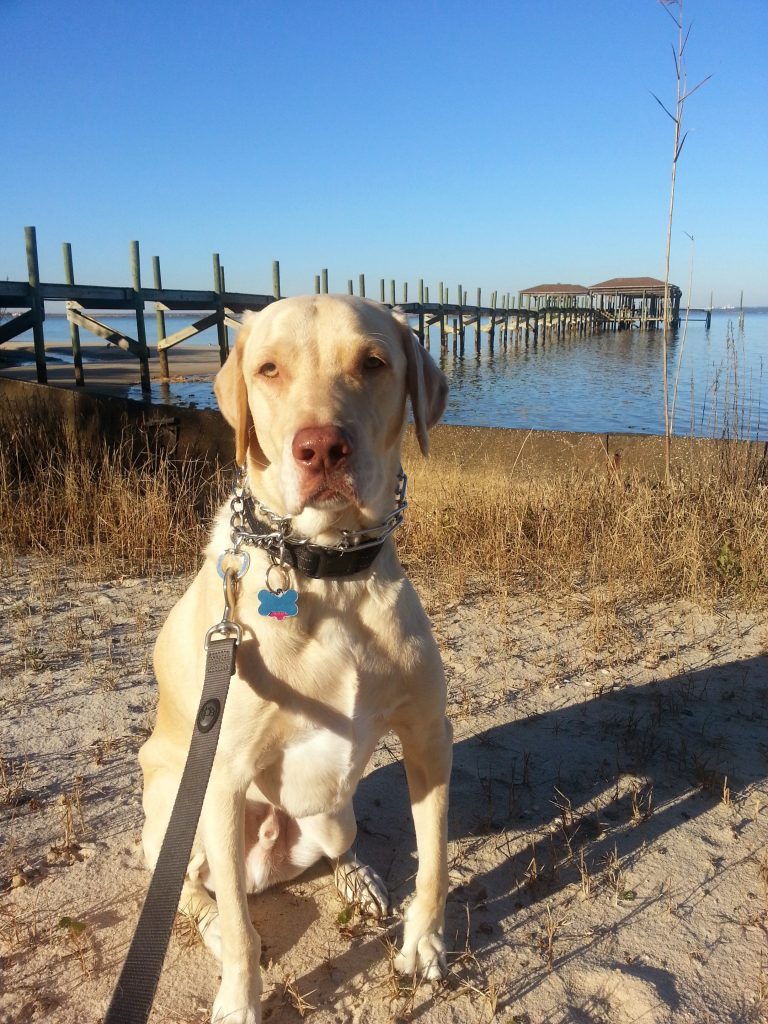 The plan for that day was to make it at least to Baton Rouge to have dinner at LSU. If the weather was good, I'd push on a few more hours.
Here's a shocker. The roads melted for about an hour and then refroze, making them almost impassible. Traffic was miserable. I sat in one spot, staring at this wonderful establishment called Night Train Tavern for over two hours while on the "highway":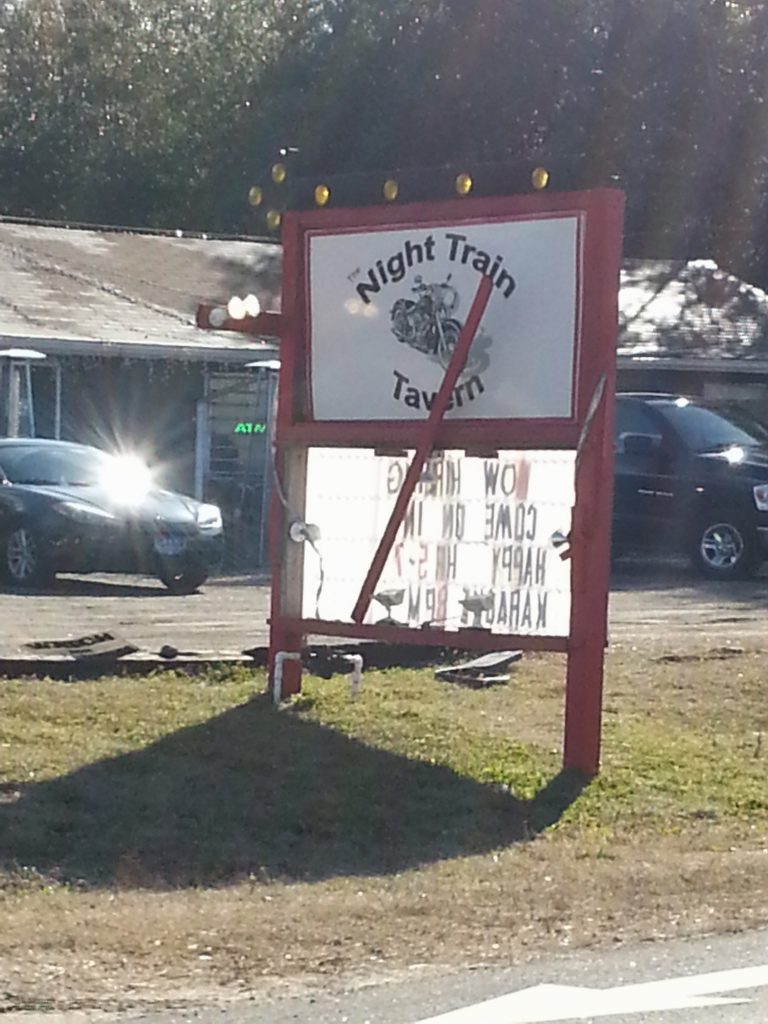 And so we had to stop at a La Quinta in Mobile, Alabama at about 10pm. Awesome. I was in Mobile, Alabama on the day I should have been in Dallas. So far, so good.
The weather was horrendous the next day, with I-10 a parking lot the whole way. I tried some side roads, but those sucked too. Took us about 6 hours to get to LSU's campus. Geaux shitty weather! We got out and walked for about an hour, so not a total waste, though Death Valley isn't as scary when it's freezing out. I also had a phenomenal road-trip beard, so I feared nothing as this picture in front of Tiger Stadium shows: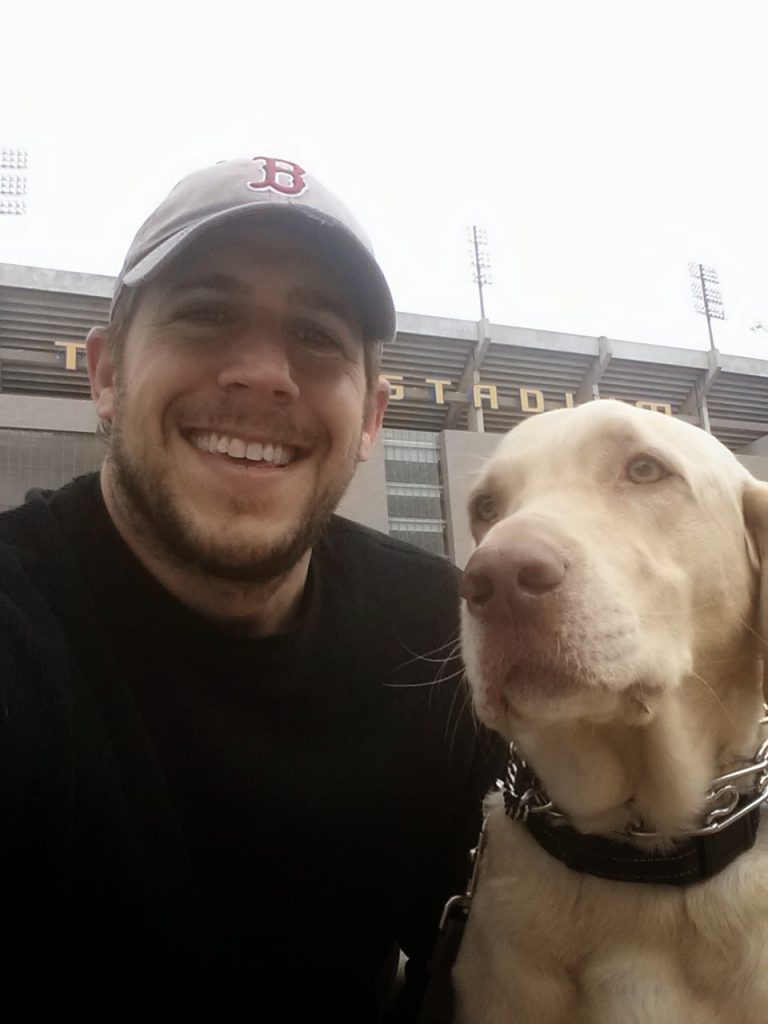 The plan the next morning was to get up really early and make up for lost time. I was planning to be in Shreveport, Louisiana by lunch and pull into Dallas late at night. This would put me in Dallas about a day and a half after the scheduled time. But even that wasn't to be.
Ice. Wind. Rain. Accidents. Road closures. Dogs and cats living together. Mass hysteria. It took us about 8 hours to get to Shreveport, where I finally had enough and stopped at about 10:30pm, a mere two and half hours of normal driving from Dallas, though on that night might have taken ten.
I was so sick of fast food (something I never thought I'd say), that I ordered take out from the only non-fast food restaurant near the hotel. That shining beacon of culinary excellence: Red Lobster. I ate fish and some other kind of fish. The dog ate fried shrimp. We chugged hot butter and stayed up late watching Golden Girls and Sanford & Son on cable. It was not one of my better nights, although watching Sanford & Son is always worth it.
The next day we got up early to find great weather, but… Bad news. Our moving truck had somehow left AFTER me, which was inexplicable, and got caught in all the same driving conditions I was caught in, but it was worse for them because they were a huge truck, so they were two days behind me. Which meant I was going to get to Dallas on Saturday, and they wouldn't get there until Monday.
Still, when we finally saw our first road sign for Dallas a few hours later, we both celebrated. I think the dog even smiled.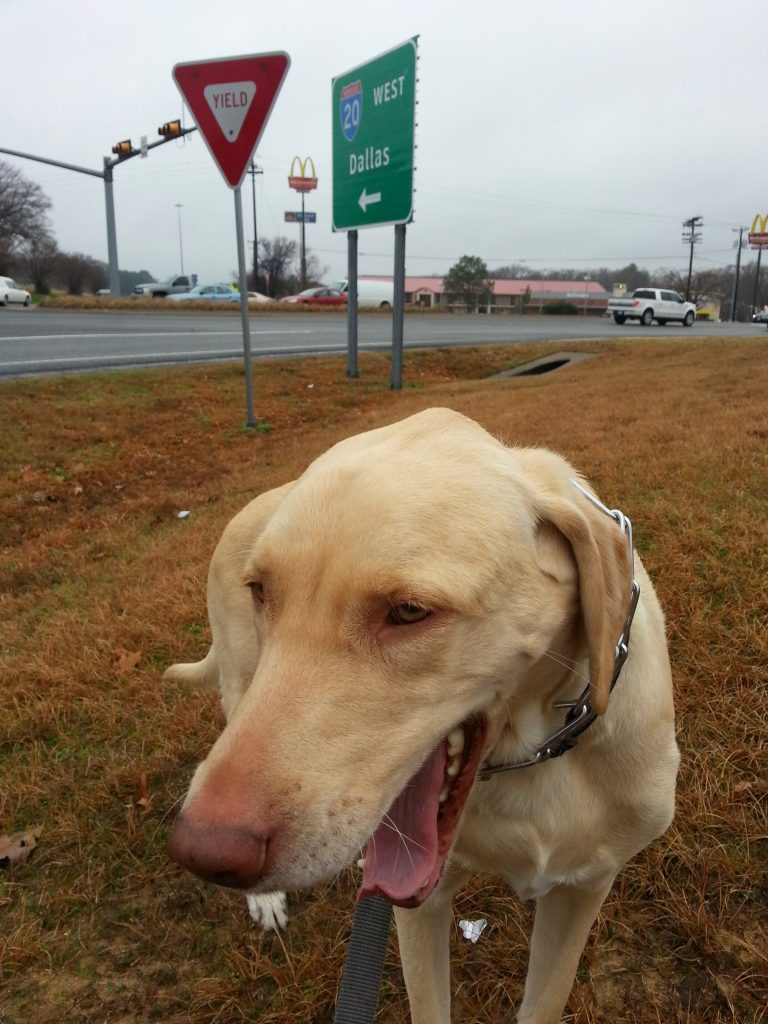 So….
We finally got to Dallas Saturday afternoon. I had to deal with the DirecTV guy showing up to a house without a TV and then find me and the dog a La Quinta to stay at for a few days.
Is five straight nights in five different La Quinta's a record? If not, it should be.
I got us a room, but for 48 hours I had very limited options for entertainment because you can't just leave your dog in a strange hotel room. Also, the few people I knew in Dallas were out of town.
And that's what led to me watching the Super Bowl, alone, in a La Quinta, with a six-pack of Guinness, some mildly edible Tom Thumb takeout chicken wings and a dog who was thrilled to have his own bed.
Again: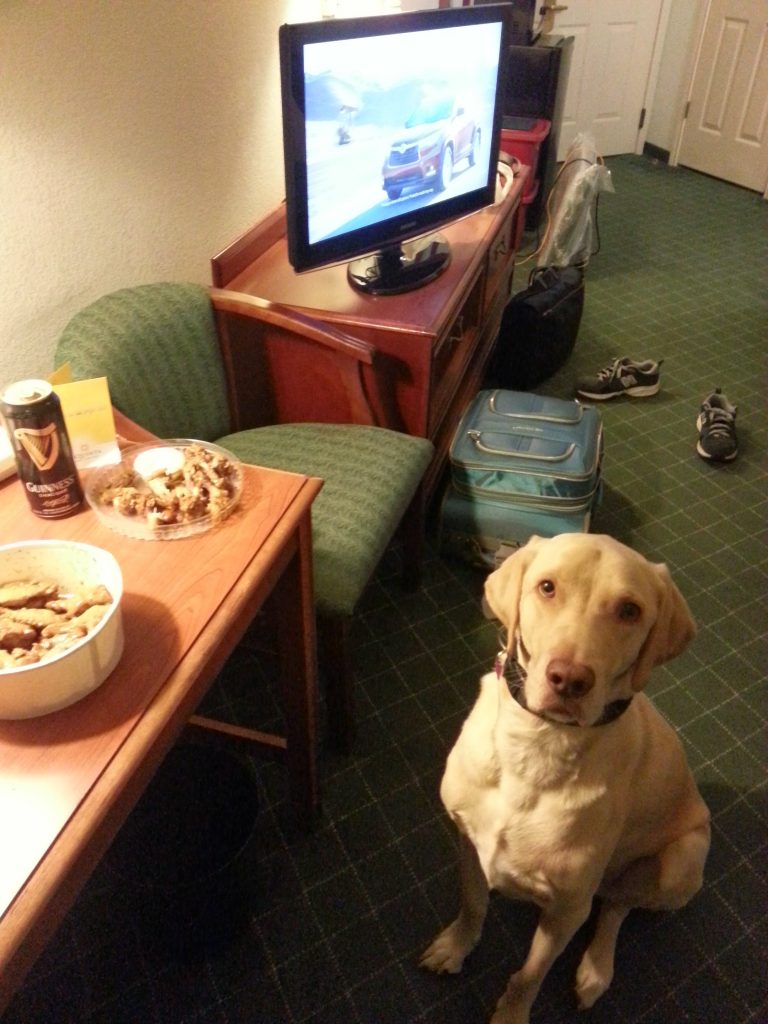 I even made up a square board with scores on it and played the dog one-on-one. I lost.
If you enjoyed this, you'll 100% enjoy my weekly 'Books & Biceps' newsletter.
It's the only newsletter that sits at the intersection of reading, sports and fitness. Join Thousands of Us!