This Books & Biceps interview with Lowdown Road author Scott Von Doviak appeared in issue #257 of my Books & Biceps newsletter.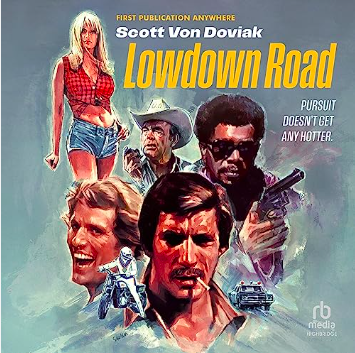 The phrase "don't judge a book by its cover" is flat out stupid. I've always hated it. It makes no sense. The whole entire point of a book cover is for it to be judged! That's why it exists: to entice you, intrigue you, make you curious and make you want to pick up the book. Full confession: I ALWAYS judge a book by its cover.
In the case of this week's recommendation, I bought Lowdown Road precisely because I loved the cover so much. There is simply no way a cover this good could have a bad book inside.
Now, I saw the cover because a friend of mine, Mike Dolan shared the book on his Twitter feed… And then after clicking on the book I saw that none other than Stephen King blurbed it by saying, "This book is a fucking blast!"
BUT, I would have known none of this if I hadn't seen the cover and immediately thought, "I want to read this" even thought I'd never heard of the author, Scott Von Doviak before.
Turns out, the book is awesome. Like a Tarantino movie set in the mid-70s. Drugs. Road trips. Car chases. Cool dialogue. Tough guys. Money. Fun characters. This is my first book from Von Doviak and it won't be my last. And even better… I reached out to Scott after I finished and he agreed to an exclusive behind-the-book interview for Books & Biceps.
Please enjoy this Books & Biceps interview with Lowdown Road author Scott Von Doviak:
Finkel: I love the names in Lowdown Road. You've got classic tough guy names like Chuck and Dean. You've got great names for places like Sonny's Icehouse and Twilight Ranch.
Do you keep a list of awesome names and nicknames and places you want to use for your books or do you come up with them as you go? Also, how do you settle on a name? Uptown Mike is a classic.
Von Doviak: I don't keep a list, but I probably should. For instance, the Twilight Ranch was originally the Moonlight Ranch, but then I realized I also had a Moonlight Hotel, so one of them had to go. Chuck and Dean just felt like good solid B-movie names, but then I paired them with Melville to go with the Moby Dick/Jaws thread running through the book. I sometimes change names from draft to draft, because you don't want to end up with too many that are similar. When I thought of Uptown Mike, that immediately raised the question of "Is there a Downtown Mike?" that became a running gag.
You nailed so many small touches about the mid-70s for this book. Character's reading Jaws and talking about the future movie. You've got music and pop culture references all over the place. Are these things you think about ahead of time, like, "it would be cool if one of my character's read Jaws?"… Or do they pop into your head as you go?
Those things aren't specifically planned, but I knew there was going to be a long road trip, which naturally brought up the idea of music the characters would be listening to. I knew ZZ Top and Willie Nelson would be in there because these are Texas boys. I also looked up the Top 40 chart for the week the book takes place so I could sprinkle in the hits of the day. Jaws is my favorite movie, and at first I was bummed that I couldn't fit it in the timeframe, but then I realized the book would work. These are all things that pop into my head as I'm writing.
Evel Knievel's presence is all over the book. References to him directly. Character's comments on him. His feats… It's great. Have you always been fascinated with him? Did you think of the book idea and work him in or was the plot something you always wanted to build with references to Knievel?
As a kid, I loved Evel Knievel and had the toy stunt cycle and all that. As an adult, I learned more about him and read a couple of biographies and realized he was not the real-life superhero I imagined at the time. I had started writing a screenplay about characters on their way to his Snake River Canyon jump, but never finished it. When I thought of doing a book that was an homage to 70s hixploitation, I realized that idea would fit it perfectly. It becomes kind of a mythic destination for the characters that turns into a huge disaster.
What is your research like for a book like this? Your details for Texas and that part of the US in the 70s is outstanding. Do you drive through the areas and research how they looked in the past? Research newspapers for old photos? Curious how you fleshed out the time and place so well.
I've lived in Austin since 1996 and seen a lot of changes, but I've also read a lot about the 70s Austin of rednecks and hippies mingling. I sort of drew on that, but some of it is invention, too. There is no Ivor County, Texas, for instance. I've driven all around the country, so some of the road trip details are my own memories, but again I had to get creative at certain points. The Snake River jump site itself is well-documented, so I used footage and photos from it as research, but the depiction of Twin Falls, Idaho is largely fictitious. I couldn't get a good sense of what it was like at the time, so I sort of molded the idea of the town to my own needs.
Let's end with the cover of the book. I know all the Hard Case Crime books have that cool look, but yours is phenomenal. How did it come about? And how big of a poster of the book cover do you have in your office? Haha!
I don't have a poster of it yet, but I definitely need one! Everyone should check out artist Tony Stella. He did the poster for the new Indiana Jones movie, and he really came through for us on short notice. We wanted it to look like the poster for a '70s drive-in movie, and it succeeds beyond my wildest dreams. He did a few quick sketches, editor Charles Ardai and I gave him a couple of notes, and he turned out the perfect cover for this book.
If you enjoyed this interview, sign up for my FREE weekly Books & Biceps newsletter. It's simple and awesome. Each week you get: 1 book recommendation and author interview PLUS one workout. Flex your brain. Flex your body. It's like if your gym had a bookstore in it. And it's free!

Did you know I wrote the only book that ranks every single president athletically? Zero politics. Just sports. Check out Jocks in Chief: The Ultimate Countdown Ranking the Most Athletic Presidents, from the Fight Crazy to the Spectacularly Lazy.
And you might enjoy these other author interviews:
'Endure' Author Alex Hutchinson
'Our Team' Author Luke Eppelin
'Elgin Baylor' Author Bijan C. Bayne