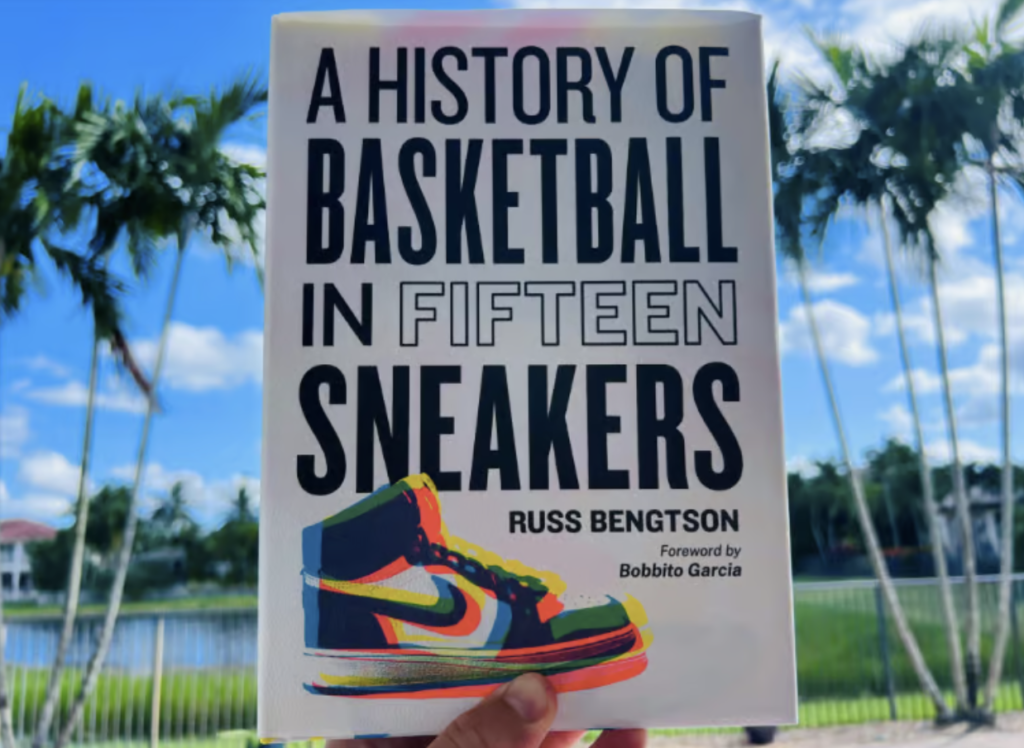 This is the Books & Biceps interview with author Russ Bengtson about his new book, A History of Basketball in Fifteen Sneakers. From the minute I heard about this book I couldn't wait to read it for three reasons:
One, it's written by Russ Bengtson, the former Editor-in-Chief of Slam Magazine (one of my favorite magazines ever) and a hoops historian, excellent writer and storyteller.
Two, I love books that tackle a giant topic in a unique, interesting way. A book on the history of basketball? Eh. A book on the history of hoops sneakers? Eh… But a book on the history of basketball in 15 sneakers??? Sign me all the way up.
Three, basketball shoes. I flat out love them. I find the making of them, the branding of them and the entire culture and ecosystem around them fascinating. From Bob Cousy's PF Flyers to Walt Frazier's Pumas to Jordans and Kobes and Currys and beyond. I'm curious about all of it and this book delivers.
SIDE NOTE: Way back when I started my writing career I pitched Slam Magazine a few story ideas. I was young. I'm confident none of them were very good. Also, it was back in the day when you'd have to actually print up a letter and send it into an editor along with clips. I was a moron back then. There's a 50/50 shot I didn't even have the address correct… Either way, I never got to write for Slam. However, I never stopped wanting to collaborate with Russ.
And now, all these years later, I'm pumped to say that we finally got to work together… Because we met on Twitter a while back and as soon as I finished reading his book I reached out to do a Books & Biceps Q&A for us. He agreed. And you're gonna love it. Wild, right? Here you go:
The Books & Biceps Interview with Russ Bengtson:

Finkel: I'd guess that 90% of people who put on a pair of Converse Chuck Taylor's today don't know a single thing about Chuck Taylor the person. Who he was, why his name's on a shoe… Nothing… But early in your book you flesh out why he was so important. One quote stood out from Taylor's biographer: "He could have been the first person who understood that a person could be a brand." What made Chuck so special, and so highly regarded by the 1930s that his name moved product?
Bengtson: So I think the thing to remember here was that in the '20s and '30s—when Chuck started with Converse up to when he got his name put on the shoe—both the All Star and basketball itself were still relatively new. The way to see the game was in person, and when Taylor toured the country putting on demos (enlisting local teams to assure at least some turnout) the basketball curious went. And, from what I've gathered, Chuck was not only a pretty good player but one of the sport's earliest showmen. He'd have done well for himself on TikTok.
And back then everything was still so intertwined, like Converse WAS basketball to some degree, and Chuck WAS Converse. And once his name got on the shoe, well, that was a whole other level. And those clinics, it's what he was good at, and what he seemed content to do as long as he could.
The 1970s are a few decades before my time, which is why the section in your book on PUMA was so fascinating. At one point it seemed like they were the kings of cool in sneakers. They had Joe Namath. They had Reggie Jackson. They had Clyde Frazier. Hell, they had Pele! How did they land seemingly every bold, brash icon at once? And why did they fall off from that perch?
I mean, Puma was able to get those guys because they went after them. Phil Knight was still selling Onitsuka Tigers through Blue Ribbon Sports, the concept of a "signature shoe" was still in its infancy—the Stan Smith was still the Robert Haillet (the French pro whom the shoe was first named for). I'll admit, I didn't dig much into the history of football and baseball cleat deals, but they were offering guys pretty serious money when pro athletes weren't making nearly what they do now, even adjusted for inflation.
As for why they fell off—man, guys like Reggie and Joe and Clyde were all once in a generation type guys with their combinations of on-field performance and off-field opulence. One of them would be real difficult to succeed, but three? It was a rough go for a while—neither Ralph Sampson and Vince Carter were the long-reigning stars they'd hoped for, at least not for them. But with LaMelo Ball and Breanna Stewart, hey, Puma is on a roll right now.
There's a picture in your book from the 1991 dunk contest. It's a close-up of Dee Brown dunking with his eyes closed. I had that poster in my room my entire childhood. I love the story behind Dee closing his eyes. That was the back-up plan for that dunk right? And no less than Michael Jordan knew it was a sort-of line in the sand between Nike and Reebok.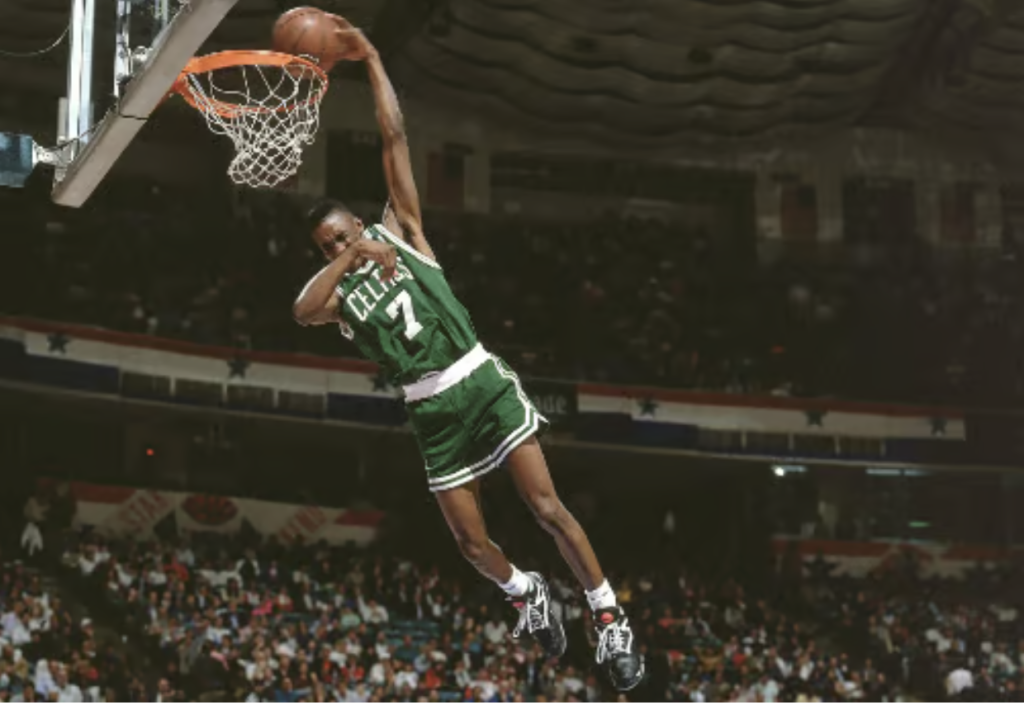 Ha yes, according to Joanne Borzakian Oullette, who was the Global NBA Marketing Manager for Reebok, the intention was for him to wear a Reebok Pump cap that he'd pull down over his eyes. But the NBA put the kibosh on props, so the elbow it was. Which, honestly, was probably for the best—the image is more timeless. It's funny though, and I talk about it in the book, Dominique Wilkins wore Pumps in the Dunk Contest the year before and he pumped his up too, but Jordan didn't seem to take offense at that. I think that it was because Brown was a rookie—and maybe because he was a Celtic.
Aside from die hard sneakerheads, a good trivia question would probably be: What sneaker was Vince Carter wearing during his epic 2000 dunk contest? I think most would guess Nike. Some would remember he wore Pumas. But neither are correct. Can you share the sneaker he wore and why you chose it as one of your 15 to highlight?
So as a rookie Vince signed with Puma because they offered him a signature sneaker—he signed a long-term deal but after a year he wanted out. The thing was to sign with a new company a lot of money would have to go TO Puma, and in the meantime he could only wear another brand for a certain amount of time and mix it up. Meanwhile his rookie year All-Star weekend was wiped out because of the lockout—and there had been no dunk contest the year prior—so heading into 2000 two big questions were a) would there be a dunk contest, and b) would Vince be in it.
The answers turned out to be yes and yes—and it immediately became the most anticipated dunk contest since '88 in Chicago. So Vince had a decision to make about what to wear. And the shoes he had that he considered the most comfortable and playable right out of the box were the AND1 Tai Chi. He of course went on to turn in the most legendary dunk contest performance ever, and later signed with Nike and helped turn Shox into a household name by jumping clear over a seven-foot French center in the 2000 Olympics. Anyway, I wrote about the Tai Chi not only because of Vince's choice—a guy doing something that high profile in a shoe he WASN'T paid to wear—but because its combination of distinctive looks and affordable price made it a super significant shoe in the early 2000s and AND1s most lasting contribution to sneaker culture.
Last question: If you were an 18-year-old, five-star recruit high school player. You've got offers from every school, but you're a guaranteed #1 overall draft pick in the NBA, so you're turning pro. If you could pick one of the 15 sneakers you use as benchmarks in your book to wear in your first NBA game, which one are you wearing and what colorway?
Yowza. First of all, please pass the guaranteed contract! I'm not gonna go through all 15 here—gotta leave some element of surprise—but I wouldn't want to make my debut in someone else's first shoe. And I'm not going out there in a shoe that doesn't have some kind of springplate in it, which rules out basically everything pre-'95.
So I think of the ones I picked, it's gotta be a pair of Concord Air Jordan XIs. They're some huge shoes to fill, worn by both Allen Iverson and Michael Jordan, but at least in this hypothetical scenario I hopefully wouldn't embarrass them too badly. They've got just the right amount of flash for a number-one overall pick. (Alternate pick—and this was CLOSE—would be the Nike Zoom Kobe IV in the "Carpe Diem" colorway.)
Thanks, Russ!
And thank you for reading my Books & Biceps interview with author Russ Bengtson.
Books & Biceps crew: If you liked this interview, I promise, you will thoroughly enjoy this book. It's awesome. Order it below. Then order one for your best sneaker head friend:
Order A History of Basketball in 15 Sneakers RIGHT HERE.
And if you're nodding your head with sneaker nostalgia, then you will love my Books & Biceps newsletter. Every week you get book recommendations, author Q&As like this, dude/dad columns read by millions, gym motivation and more.

And if you're still looking for a basketball fix, try my digital biography of Dominique Wilkins:
'Nique: The High-Flying, Electrifying Career of Dominique Wilkins
This is what Spud Webb had to say in our interview for the book:
"It's amazing that people act like they've never seen anyone in the 80s and 90s play other than MJ. People need to bring up Dominique. Dominique was an all-time scorer. He never got his credit."
Other Author Q&As You Might Like:
Books & Biceps Interview with 'Giannis' author Mirin Fader
Books & Biceps Interview with 'Dumb Money' author Ben Mezrich