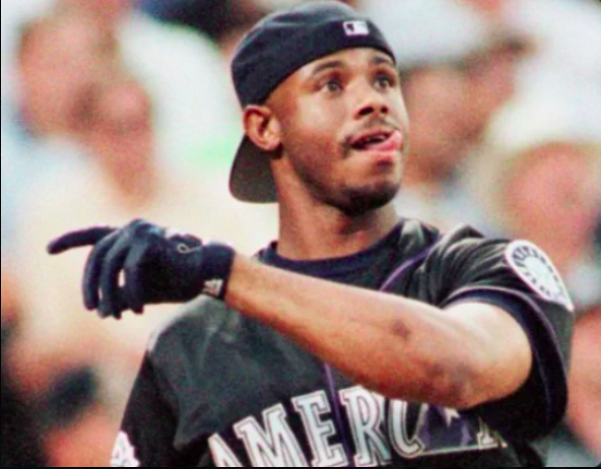 Tens of millions of 1990s kids wore their hats backwards because of how cool Ken Griffey Jr. looked. I did it. You did it. We STILL do it. But do you know the real, heartwarming reason Ken Griffey Jr. wore his hat backwards?
This is a little known, but all-time great sports dad story you're gonna LOVE:
1/ We begin with Ken Griffey Sr.
Before Junior became the smiling, charismatic face of 90s baseball…
Senior was a stalwart on Cincinnati's famous 1970s Big Red Machine.
He played with Johnny Bench, Joe Morgan, Pete Rose…..
2/ Ken Griffey Sr. wasn't a role player…
He was a 3x All-Star.
He hit .336 & was Top 10 in MVP voting in 1976.
He won 2 World Series Rings.
Most importantly, he was a family man… And his son, Ken Griffey Jr., grew up in the Reds clubhouse….
3/ Like most boys, Junior idolized his dad…
Wanted to look like him, act like him and be him…
Even dress like him.
But instead of putting on a suit and tie or work uniform like other kids, Junior would steal his dad's actual Reds baseball hats. One problem….
4/ Ken Griffey Jr. was 6 when the Reds won their 2nd World Series.
"If I put his hat on at age six, and he's got an eight and a half (hat size) and I got like a little five, it's not really gonna stay on my head," Griffey once told NBC sports…
So he devised a solution….
5/ If Junior put the hat on forward, it would flop down and cover his face.
Instead… "I just turned it around because I just wanted to wear my dad's hat," he said.
With the visor backwards, he could wear his dad's hat just fine.
Little did he know….
6/ At age 19, Ken Griffey Jr. made his MLB debut in Seattle.
Within a few years he'd become one of the biggest stars in sports.
Still rocking his hat to the back…
For many of us, our 90s icon list goes like this: #1 Jordan #2 Griffey
His swing. His catches. Legendary….
7/ And while millions upon millions of us wore our hats to be cool like Griffey…
He wore his hat backwards because he wanted to be like his dad.
And in 1990, they even hit back-to-back homers for the Mariners. Sweet!
If you loved this and it takes you back to classic Griffey memories, sign up for my Books & Biceps newsletter for free.
You get weekly columns like this, book recommendations, author Q&As, workouts, garage gym motivation and more.

And if you're looking for your next great sports book, I humbly recommend one of mine:
'Nique: The High-Flying, Electrifying Career of Dominique Wilkins
"It's amazing that people act like they've never seen anyone in the 80s and 90s play other than MJ. People need to bring up Dominique. Dominique was an all-time scorer. He never got his credit."
– Spud Webb
Jocks In Chief: The Ultimate Countdown Ranking the Most Athletic Presidents, from the Fight Crazy to the Spectacularly Lazy
"Presidents aren't just the commander in chief – they're also athlete in chief… The Oval Office has a long history of being occupied by athletes. These sweaty pursuits are detailed in Jocks in Chief." 
– The New York Post
YOUR MUST READ COLUMN: