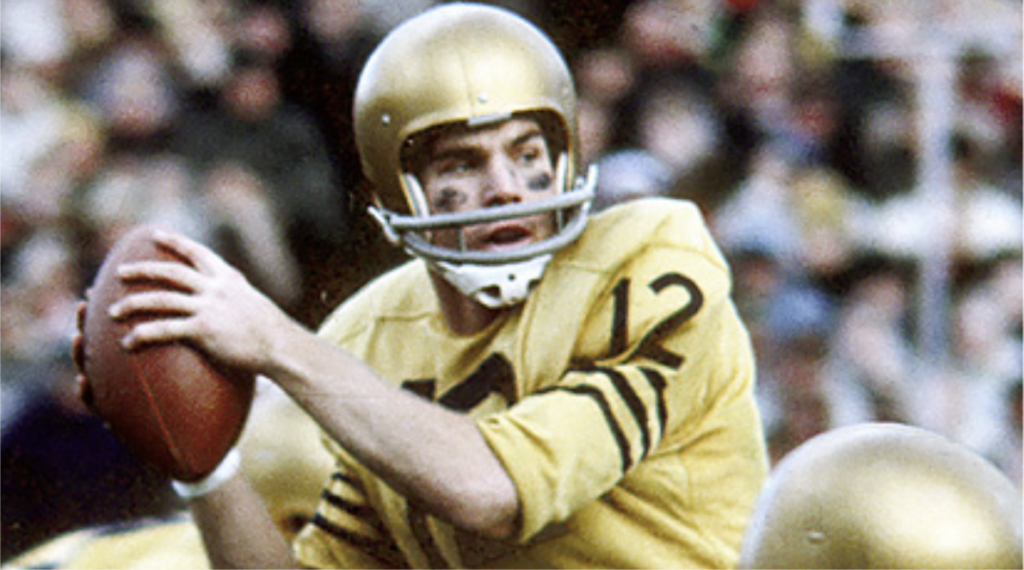 60 years ago. Before NIL deals & sponsorships, one college football star did the following: Won the Heisman Trophy, then served in Vietnam, then won 2 Super Bowls as a QB, made 2 HOFs, started a company & sold it for $600+ million… This is the story of Roger Staubach's remarkable rise in the Navy, NFL and Business
And it almost didn't happen…
Let me tell you how one decision turned a Cincinnati kid into an NFL & business icon:
1/ Spring. 1958. A HS football coach in Cincinnati wants to revamp his team.
He's got players but not a leader. He surveys his roster. He needs a new QB.
His eyes settle on one name.
A tall, athletic junior who had never played quarterback in his life: Roger Staubach
2/ Young Staubach is confused about the change.
He asks why they want him to be quarterback.
"Because the other guys listen to you," the coach says.
"That conversation changed my life," Staubach says now. "If they hadn't seen me in that role, you wouldn't be talking to me."
3/ Staubach goes full bore all summer.
Kills himself during two-a-days to win the starting job as a senior.
Loves running the huddle. Leading his peers.
Feels natural.
He graduates and plays QB for one year at the New Mexico Military Institute…
4/ In 1961 Staubach enters the Naval Academy.
He sits as a freshman.
Early in his sophomore year the Midshipmen's offense is sputtering. Flat. Lifeless.
Staubach gets his shot.
He leads Navy to 6 TDs and a 41-0 victory over Cornell.
The job is his…
5/ Junior year.
Staubach is 21 and becomes a household name.
He leads Navy to a 9-1 regular season record.
Plays for a National Championship.
Wins the Heisman Trophy.
Gets the cover of Time Magazine when that was a life-changing honor…
6/ After an injury-filled senior year, Staubach is drafted by the Cowboys.
"I know I sound corny but there is no way in the world I was going to break my commitment to the Navy," Staubach says. "They could have offered me a billion dollars."
The NFL is on hold. For 4 years.
7/ Instead of commanding Dallas' offense for Tom Landry, Staubach is in charge of several dozen enlisted men in Vietnam.
He's a Supply Corp officer.
Practices leadership daily.
"There's a way to do things in life," he says. "And there's power in setting a good example."
8/ Staubach quarterbacks a few squads in the service to keep up his skills.
He spends a year in Chu Lai…
He has the Cowboys playbook and uses his military leave to practice with the team.
In 1969, he officially joins the Cowboys as a 27-year-old rookie.
He earns the starting spot in his second season.
9/ 1972. This is the year it all happens for Staubach.
A 10-game winning streak.
A Super Bowl victory against the Dolphins.
Super Bowl VI MVP.
"Captain America" becomes the face of the NFL…
10/ Roger Staubach goes on to play in 4 Super Bowls.
He wins 2 and loses 2, both to the Steelers.
He's a 6x Pro Bowler. A member of the 1970s All-Decade Team.
But quarterbacks (even stars) in that era didn't make big money.
Far from it…
11/ By the end of his career in the late 70s, Staubach has 3 kids and is thinking about his post-football life.
He'd been working in real estate in the off-season for the esteemed Henry S. Miller company, preparing for this moment.
He launches The Staubach Company…
The Staubach Company starts off strong. A few office buildings. Regional tenants.
But Roger thinks bigger. He starts working with major corporate clients. Residential development. Apartment complexes… Quarterbacks his business.
For 31 years the Staubach Company grows.
Roger works with Jerry Jones. Ross Perot. All the iconic Dallas magnates.
Then, in 2008, he sells the company for a whopping $600+ million.
He becomes the wealthiest retired NFL player.
All because a HS coach moved him to QB.
Thanks for reading Roger Staubach's Remarkable Rise in the Navy, NFL and Business.
If you enjoyed this column, I am 100% confident you'll like this one as well:
3x Super Bowl Champion and Fighter Pilot Chad Hennings' Utterly Unique Rise to the NFL
I also wrote the only book that ranks the Presidents of the United States – athletically. Zero politics. Just sports: Jocks in Chief: Forty-Four Essays Ranking the Most Athletic Presidents, from the Fight Crazy to the Spectacularly Lazy
"Presidents aren't just the commander in chief – they're also athlete in chief… The Oval Office has a long history of being occupied by athletes. These sweaty pursuits are detailed in Jocks in Chief." 
– The New York Post
If you're nodding your head becuase this kind of writing is right in your wheelhous, join my Books & Biceps newsletter here.
You get weekly book recommendations, gym motivation, exclusive author Q&As, more columns like this and updates on my books, like my Macho Man biography.